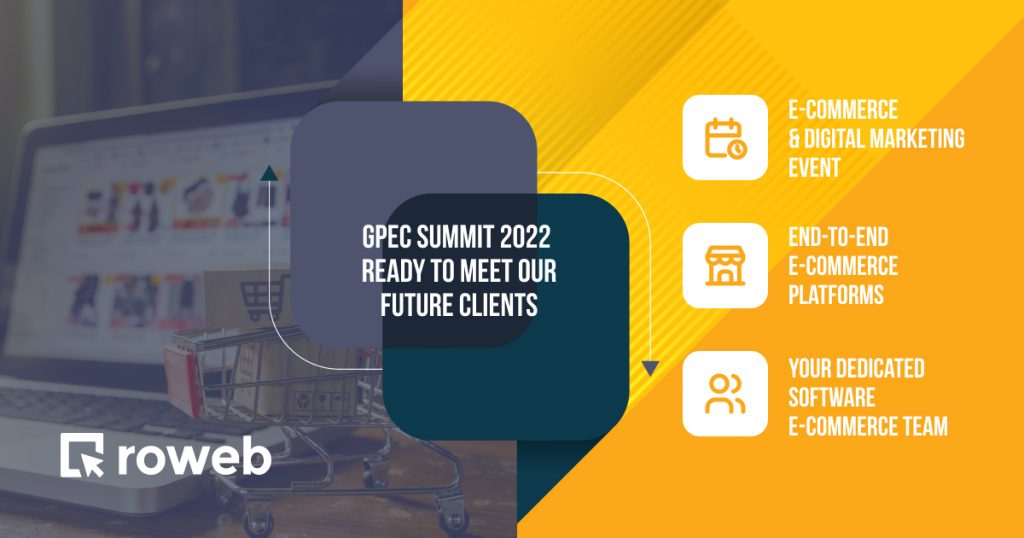 After MWC Barcelona, ​​Roweb announces its participation in another important event in Romania: GPeC Summit 2022.
GPeC is an event with tradition, both for the e-Commerce industry and for Roweb. It brings together people interested in Digital Marketing and e-Commerce, from software development companies and marketing agencies to customers interested in finding digital solutions for their business.
After two years of online events, the most fantastic news is that the 17th annual edition of GPeC SUMMIT will take place on-site at the National Theatre in Bucharest. And ROWEB WILL BE THERE!

Source: www.gpec.ro
What does participating in GPeC mean for Roweb?
First of all, it is an opportunity for us to meet potential customers. We are delighted to present our services and e-Commerce project portfolio, which is growing every year.
We address business owners who need the expertise of a dedicated software team for their complex projects, complete solutions, data migration, e-Commerce platform updates, or certain modern functionalities.
Secondly, it is an opportunity to meet people in the industry who are interested in software development and technology. GPeC encourages networking, and the team that represents Roweb at this event is looking to come up with something new every year that will attract visitors to our exhibition stand.
It is like a "hook" that creates a bridge between people's expectations and our expertise. This year will be no exception. In addition to the special "treat" we prepare for visitors, we will also have an offer adapted to the needs of developing online stores – a free technical consultancy.
The analysis will be performed by experienced professionals from our team who want to contribute to the development of intriguing e-Commerce projects.
The last but not the slightest reason for our participation in GPeC is the desire to keep up with the trends in the field. The field of E-commerce is a very dynamic one. Starting from the complex needs of customers, e-commerce platforms are also becoming more demanding.
Every year, experienced e-Commerce speakers come to the GPeC conference stage to share their experiences with visitors and exhibitors.
Our clients' projects. Developed by Roweb, awarded at GPEC
We have been participating in GPeC since 2018, but the interaction with the event is much older than that – since 2010 clients in our portfolio have won awards at this event.
The awards are given to the online stores that have recorded the best results following the GPeC Audit.
For example, in 2010 – Organik.ro in the category "Health and Beauty", occupied 3rd place with 729 points. This online store was also nominated in the "User's Choice" category and won third place with 97 points.
O'Mac – a nationwide network of stores providing equipment and tools for home & garden, agriculture, and the forest is another Roweb's client who received an important GPeC award.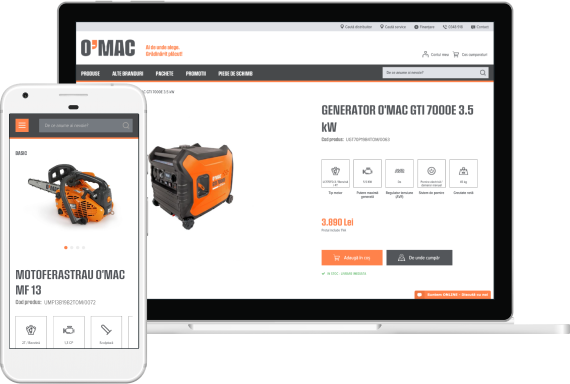 The O'Mac website was awarded at GPeC in 2015 – as the best e-commerce website in the Home, Garden, and Tools section.
For creating O'Mac's platform, Roweb came up with a new digital approach that allowed the end-users' fluid and intuitive on-site acquisitions. The website was rebuilt with Magento 2, whereas the new features focused on the product catalogue.
Roweb's e-Commerce activity in a few words:
Roweb offers end-to-end e-Commerce solutions using Magento 2 and WooCommerce technologies.
The main purpose is to create custom-made performant platforms that include dedicated features & functionalities. The selling process is efficiently simplified in order to increase customers' engagement with the products.
In addition to customizable e-Commerce solutions, the Roweb team also offers maintenance of development platforms, modernization of old e-Commerce solutions, migration of data from one platform to another, and online payment solutions.
15 of the people from the Roweb teams are also involved in e-commerce projects (senior and mid developers, QA, project managers, etc.). In the future, we intend to increase the team.
Roweb's portfolio includes 100+ successfully developed projects. These come from Retail, Luxury, HoReCa, Real Estate, Fashion, Automotive, Tourism, Home & Deco etc.
Our online payment and e-Commerce solutions benefit from the security, scalability, and simplified maintenance without interfering with clients' business activity.
Participating is not the last professional event in this year. In addition, the team is preparing for other interesting international summits.
For now, we do not disclose more information. But as we get all the details, we'll be back with updates on our blog and Social Media pages.
Do you also search for an e-Commerce solution? Or do you prefer offering your customer a better shopping experience?
Regardless of the answer, you should book a meeting with one of our e-Commerce consultants.