Even when the context is unfriendly, and the rules on the market are becoming stringent, you still have the chance to rock in business and keep your customers engaged.
The key to your restaurant success stands in your offer and in the way you choose to promote it and make it available to your potential customers.
If you want to keep your restaurant relevant during this challenging summer, there are some unwritten rules you should take into account:
communicate wisely your restaurant's menu;
increase your clients' trust in your products;
improve tasks distributions for your staff;
gain customers' loyalty through efficient tactics;
How Your Menu Should Look Like so You Can Generate Relevant Sales, Able to Sustain Your Business
MENIU OPTIMIZATIONS
In the past 3 months, delivery and takeaway services became a MUST HAVE for every restaurant that intended to "survive" to the pandemic context.
Many offers were adjusted rapidly in order to respond to the changing market – especially by turning a-la-carte menus into delivery products.
Now, the market dynamic announces new changes. And your restaurant must be ready to embrace them in order to maintain it relevant and (why not) profitable.
Take a look at some insights into how customers' behavior and expectations have changed in the past months and what solutions match your business needs now more than ever: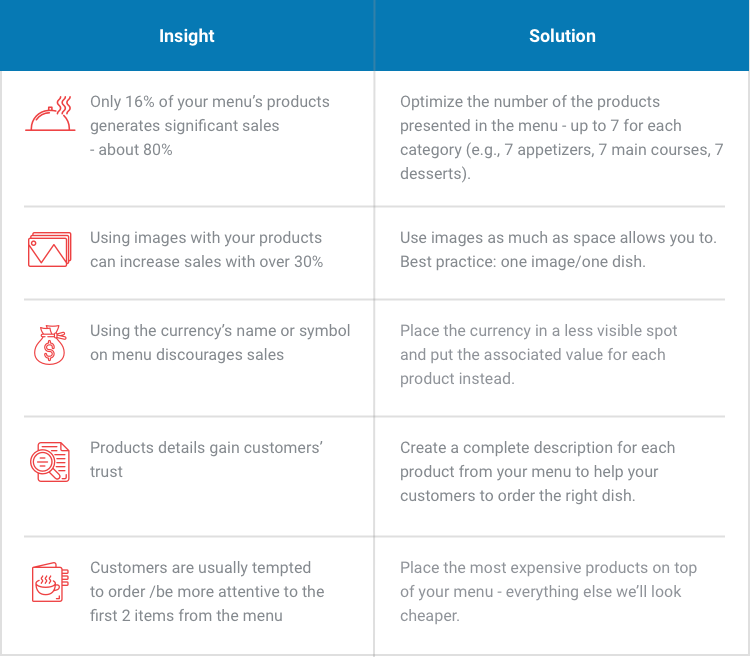 The Online Menu – an Easy-to-Use and Safety-Efficient Tool for Both Online and In-Restaurant Sales
ACCESSIBLE ON THE MOBILE PHONE
By simply scanning a code (QR code or NFC tag) with the mobile phone, your client can directly access the menu with no need to interact with the restaurant's staff or unnecessary waiting time.
The digital menu is one of the items included in our complete digital solution for restaurants – a digital solution developed by Roweb for helping managers to adapt fast to the new context.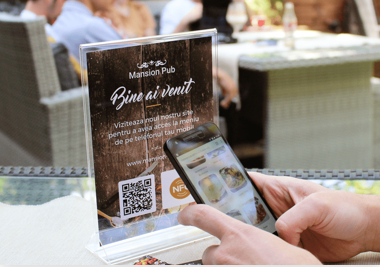 Once you decide to implement in your restaurant our complete solution:
online sales + delivery + marketing services
we will upload your menu online or update it – if you already have a digital one.
How Can You Get Valuable Insights on Your Client's Behavior and Expectations and What Should You Do to Gain their Loyalty?
ORDERS AND RESERVATIONS HISTORY
A successful menu optimization must be done according to customers' behavior and expectations. And, in order to do that, you need access to valuable and up-to-date insights (ordering frequency, ordering values, dish preferences, etc.)
As a core part of our complete solution, the CRM app gathers all the needed information in a structured way,
offering you instant access to all the info you need in only a few seconds (client type: regular, returning, premium, VIP, etc., phone and address, orders and reservations history/client, etc.)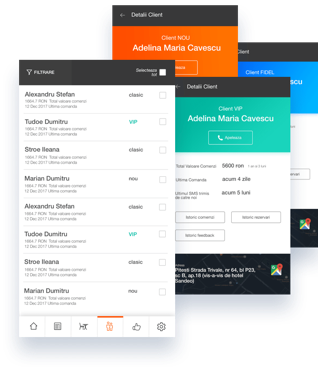 How Can the Dedicated Solution Help Your Busines?
own delivery system that can be used easily by both clients and employees;
0% commission for all the online sales – eliminating commission for third party delivery services;
online menu with contactless access to reduce risks and boost the clients' trust;
extended restaurant services through online offers in only a few days by creating a dynamic and ready-to-sell website;
ordering mobile app for placing your restaurants offers only one "touch" away from your clients;
CRM based mobile app that offers you valuable insights about your customers' behavior (ordering history, contact data, client type);
real-time feedback from clients (by using QR codes and NFC tags) and the opportunity to optimize your offers based on valuable information;
taking over and efficiently distributing orders and managing all your business remotely;
promoting the restaurant's offers to the existing clients and to the potential ones, as well.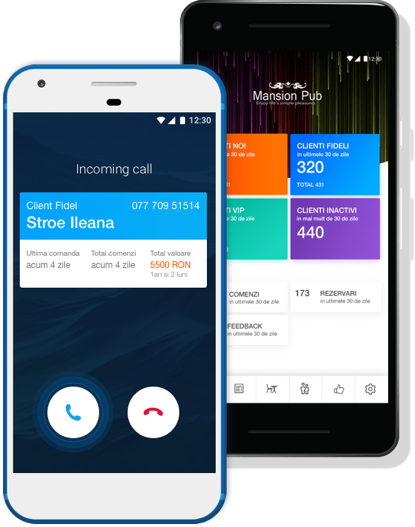 How Do We Deliver this Solution?
Once you send us your request by filling the contact form, we get back to you with a financial proposal and free access to a DEMO version of the solution (usually in less than 24 h after we receive the request). After the collaboration agreement is signed by both parties, we start implementing the solution and deliver it to you in only 3 days.
What Guarantees Do We Offer?
Beyond our proven experience in developing efficient digital apps for restaurants, we also offer guarantees for the solution's functionality (investment refund if the solution doesn't work as agreed during the first month).
What Are the Clients Saying About Us?

Before implementing this solution, we've taken orders mostly via phone – a time consuming and unproductive activity if you take into account that not all the clients could reach us. Now, the apps and the solution's functionalities help us to have better ordering management even when we deal with a high volume of orders. So, the impact is significant in terms of sales and deliveries."
A mai explicat Ovidiu Stoica – GreenPub Manager.

"Working with Roweb helped us transform the way that we run our business. Now we sell much more to customers that view our menu on our website and then order online."
Mihai Negru – Mansion Pub Owner
(Check out the case study)