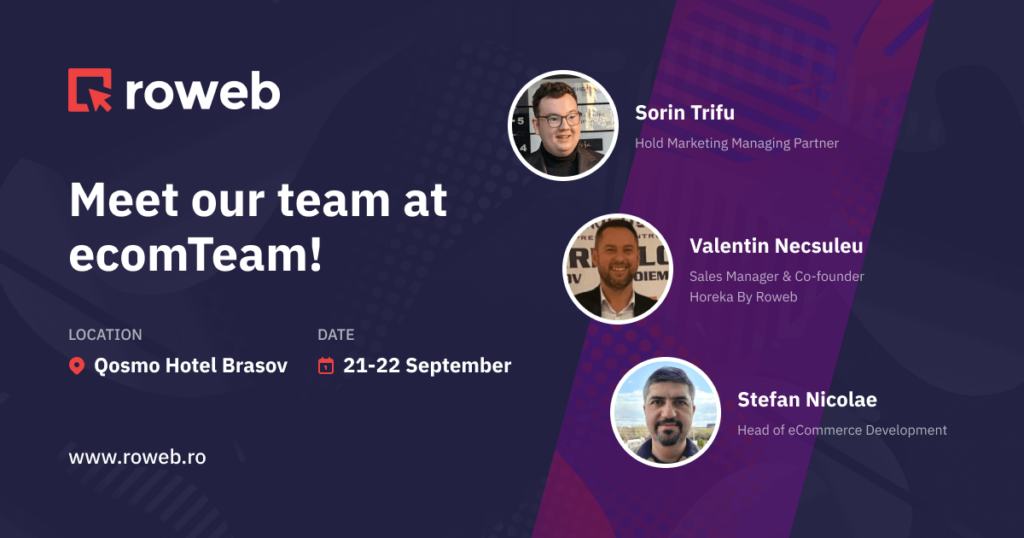 Supposing you have followed our posts so far from our Social Media pages or blog, you already know that one aspect that defines our business strategy is keeping up with the dynamic industry trends by offering our clients up-to-date functionalities and solutions for their digital transformation.
However, this makes us attend various tech, business, and eCommerce events in Romania and internationally.
And the first to open the agenda (already complete) this fall is ecomTeam.
Thus, we will meet you in Brasov on 21 & 22 September 2023.
Over the next two days, we'll be in the city south of Tampa, networking with industry leaders, attending conferences, and interacting with those interested in learning more about our brand.
About ecomTeam – Roweb's perspective
We are participating for the second time at ecomTeam, and what made us come back is that the event is not just a conference about eCommerce but an event that emphasizes the interaction between exhibitors and visitors.
"ecomTeam was the biggest surprise of all the eCommerce conferences I attended. It's a conference that promotes itself as team building for eCommerce, and that's exactly what happened. We focused a lot on networking and establishing sustainable partnerships."

Stefan Nicolae
Head of eCommerce Development
So if you are in Brasov between September 21-22, we are waiting for you at the Roweb stand to talk about:
360° eCommerce solutions: Development + Performance Marketing. In 2022, we started collaborating with a marketing agency which supports us in providing clients with comprehensive digital solutions based on measurable results.
The brands in the Roweb's portfolio and our services' impact on the business of those who chose to work with us.
Technologies we use in the development process and the diversity of eCommerce solutions we make available to customers.
Our in-house solutions that can be tailored to fit the needs of various businesses, organizations, and sectors.
Our team at ecomTeam 2023
This year, the Roweb team at ecomTeam is represented by:

Sorin Trifu – Hold Marketing Managing Partner
Sorin Trifu started his career in Digital Marketing when he was only 14 years old. Out of the desire to apply his own quality standards in an industry with potential, in 2017, he founded his own performance marketing agency focusing on providing PPC services. Currently, the agency has become a Google & Meta partner.

Valentin Necsuleu – Sales Manager and & Co-founder Horeka by Roweb
Part of the Roweb delegation at national and international eCommerce and business events, Valentin Necsuleu coordinates the sales department. He is also the Co-Founder of the Horeka by Roweb digital solution (together with Mirel Ionescu).

Stefan Nicolae – Head of eCommerce Development
Stefan is the eCommerce team & PHP department leader in Pitesti. He joined the team in 2006 and represents our company at business, tech & eCommerce events.
Some of the success stories from the Roweb portfolio that we will talk about at ecomTeam
The experience of over 15 years in eCommerce has made us interact with many companies and brands. However, most of the partnerships turned into long-term collaborations, whose impact was noticed quickly.
So, at this year's edition from ecomTeam, we will talk about customized Roweb solutions such as Horeka – one of the only digital solutions in Romania dedicated to entrepreneurs in the HoReCa industry and offering 360 management of orders, deliveries and marketing, without charging a commission.
Also, at ecomTeam, we will present some of the projects from our portfolio. Here are some examples:
Litera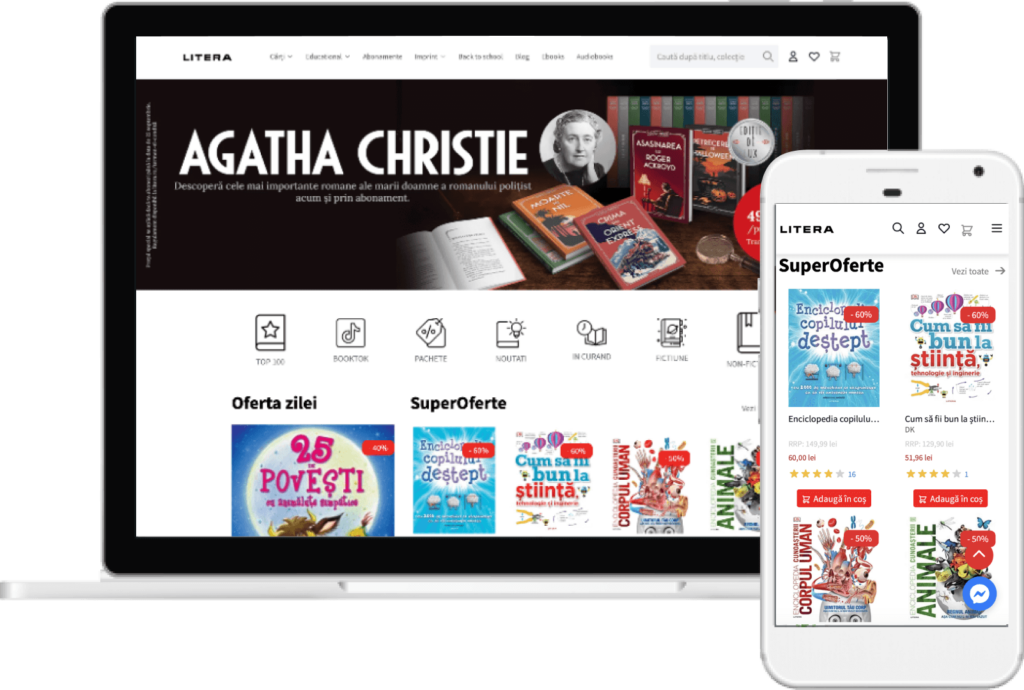 The partnership with Litera meant custom development for one of the country's largest publishing houses and bookstores, starting from the readers' needs to quickly find the products they need.
Our eCommerce team started by replacing the old code, developing the migration process to Magento 2, and, at the same time, delivering new functionalities requested by the client (to keep the platform updated and functional).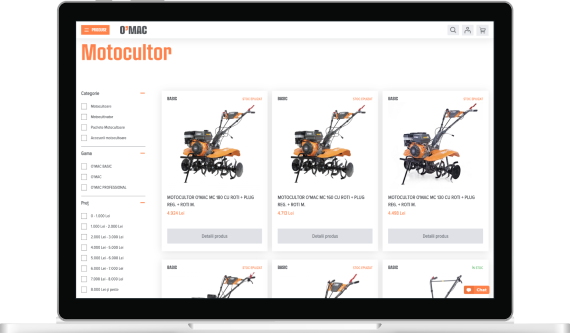 Working with O'Mac also meant collaborating with a nationwide chain of stores that specializes in selling tools and equipment for homes, gardens, and agriculture.
To provide O'Mac's customers with a seamless shopping experience, we migrated their website to Magento 2 and implemented various optimizations that helped boost sales.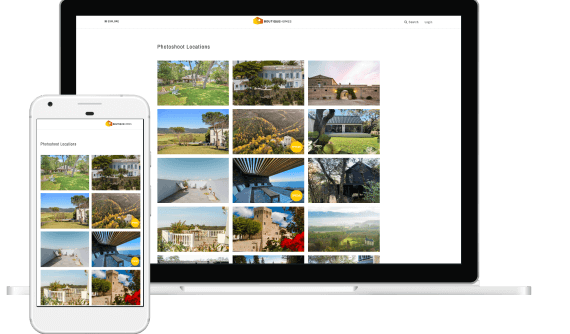 Since our partnership with Boutique Homes started, we have recognized the client's need for flexibility.
As a result, we have provided technical expertise that upholds quality standards while also maintaining a flexible approach. Our solution empowers the client to oversee the entire booking process, including managing payments and communicating with customers in real time.
Roweb eCommerce team in a nutshell:
15+ years experience eCommerce industry;
Custom development based on modern technologies such as Magento & WooCommerce;
A dedicated team of software developers so that each project receives the necessary attention;
Diversity of eCommerce solutions: from online stores, marketplace platforms and SaaS solutions to data analysis platforms and 3rd party integrations.
Covering all the roles necessary for the development of an end-to-end eCommerce solution, from experienced software developers to testers, to ensure that the solution works in optimal parameters.