Recently, five of our colleagues celebrated their 10th anniversary since they started working at Roweb and we're celebrating their contribution to the company's growth and culture by sharing with you their thoughts and memories about their early days at Roweb. Meet Melania, Stefan, Gabi, Marius and Sorin.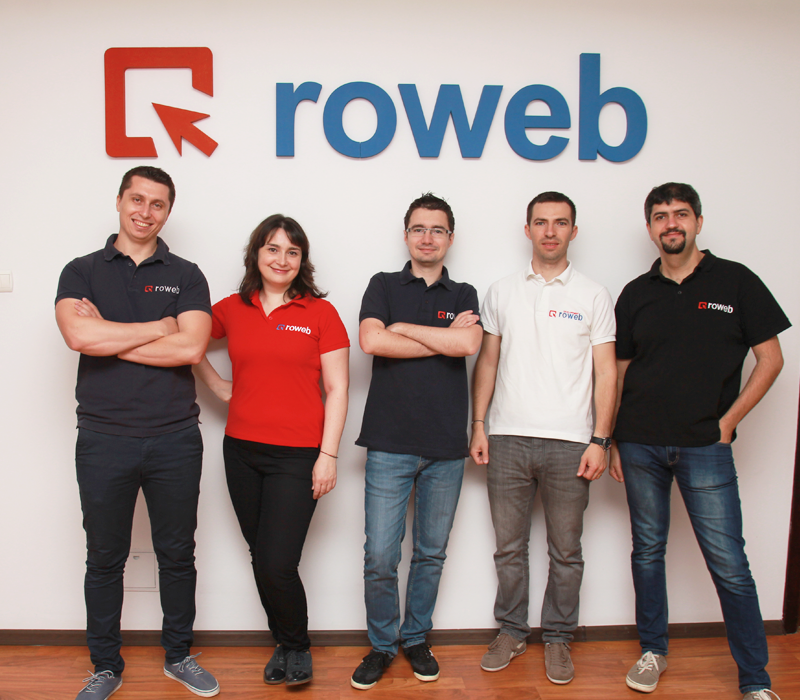 How did you start working at Roweb? What was your first experience here like?
Sorin: Viorel Costea [the CEO] was my computer science teacher in high school, but back then I hadn't discovered my love for that subject yet. When I was in college, I learned about the company he had started and interviewed for a job twice. The first time I didn't do that well, but six months later I was better prepared and they gave me another chance. I got the job, but they sat me at the desk closest to the bathroom ?
It was very difficult at first, I had no work experience and I'd never worked on a web app, I had only played around with desktop applications and it was hard for me to make the transition, until one day Mirel [one of the co-founders] had the inspiration to sit down with me and explain the difference between the two in just a few words and it opened up my world. It was like an "evrika!" moment after which everything started making sense.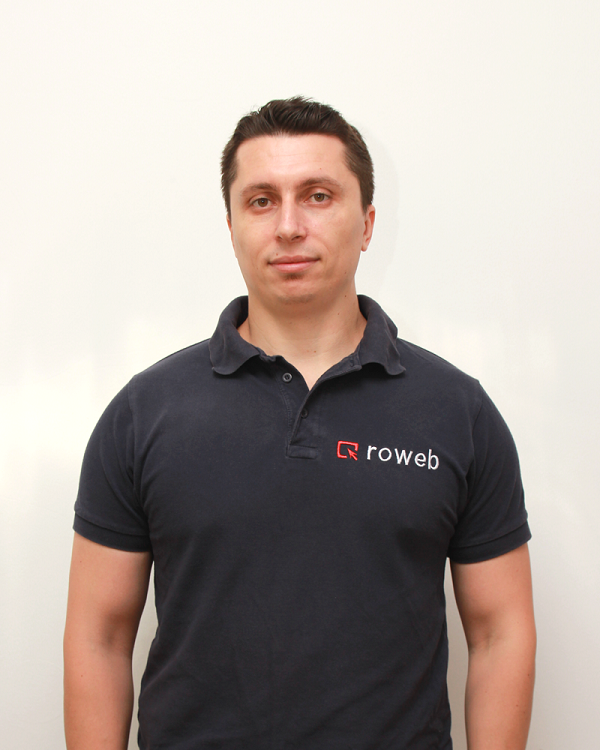 We were a pretty small team at first and it was a very informal environment, I liked that you could always talk to your boss openly, we had awesome parties, and we would always get to work with the latest technologies, like Ajax and Web Services, before other folks had even heard of them, and my friends in college would look at me like I was living in a Sci-Fi movie! That was also thanks to the client I've been working for, he's always been very open to try emerging technologies that we learned by using.
Melania: I was a 3rd year student and was looking for a part-time job, to gain work experience. They advertised a sales / customer support position for a platform that they developed, IT Trade Online. I was excited about interacting with customers in English, but was nervous about talking on the phone with them, email or AIM would have made it easier to understand them.
I was very nervous at the interview and when Viorel first showed me how the platform works, I was a bit overwhelmed. I had no technical knowledge, I didn't know anything about the IT market or that there were any B2B service suppliers in Romania at that point, I didn't think I was up for the job, but still agreed to come back the next day ? There was a lot I had to learn at first, but it was interesting and challenging.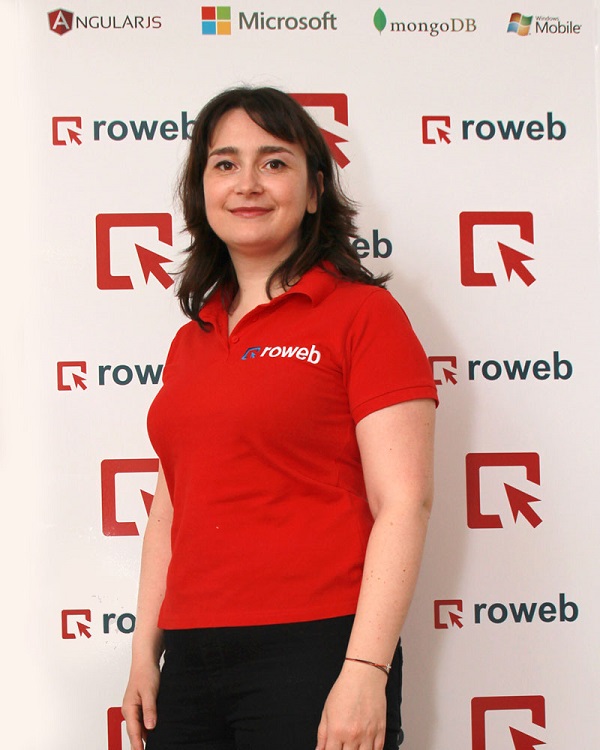 When you first joined the Roweb team, did you plan to work here for so long? What made you decide to stay?
Marius: At that point I wasn't planning my future that far ahead, but I was hoping to be here a long time because I knew Viorel and I knew the people here were the kind of people I would want to work with and could have a great relationship with. It wasn't just a trial job for me. Besides, back then the software industry wasn't that well developed in Pitesti, there were only 2 or 3 companies in this field and getting a job at one of them meant a great deal for any fresh graduate. Many of my former colleagues had to either choose a job in a field that wasn't related to their area of study, or leave Pitesti for a larger IT center. I was sure I didn't want to leave Pitesti, I'm pretty reluctant to change and I have strong roots here, so I was very happy to have the chance to do the job I loved, in this city.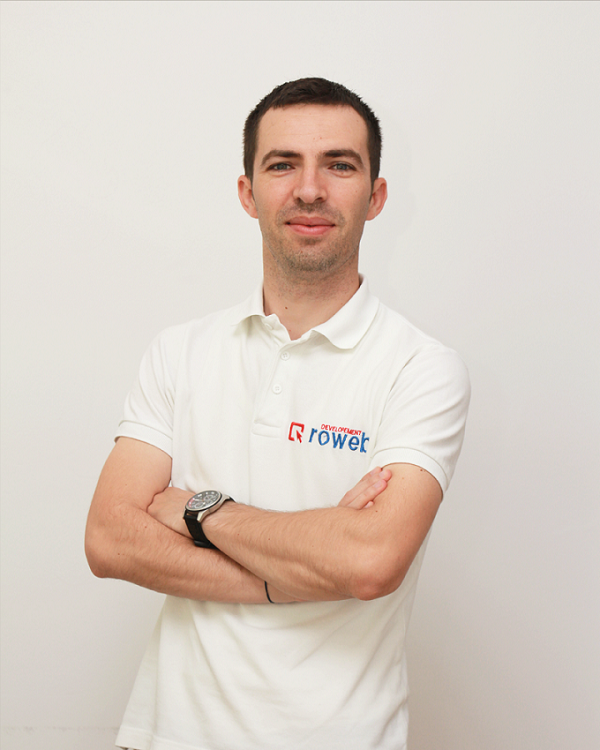 Stefan: This was so long ago I honestly don't remember what my original plan was ? One of the main reasons I stayed has been the company culture, which is very open and authentic. Roweb has a very flexible, un-politicized environment, that fosters growth for everyone in the team.
Sorin: I didn't have any initial plan, but I soon realized it was a really cool group of people. I decided I wasn't going to leave unless they gave me a very good reason to do so. I've received many other offers since, but I've never been interested in them.
What made you want to work in a software company? What drew you to this field?
Marius: When I was very young I was spending a lot of time with an uncle who is an electrician and he would let me watch and later on help with fixing cassette players and TV sets – I think this is how I first became interested in technology. Then, in the 6th or 7th grade I started hanging out with a group of friends who were very passionate about computers, that we initially built ourselves from parts. When I started learning computer science in high school, we were learning C and Pascal, it was the pre-Windows and pre-internet era, parts as well as information were hard to come by, this wasn't a trendy, mainstream field yet.
Stefan: I first wanted to develop software in the 6th grade, when I got my first computer, an HC 90 that you would connect to your TV set, because it didn't come with a monitor and it used audio cassettes for storage. I've always loved the idea of creating, developing and connecting multiple components to achieve a goal you imagined.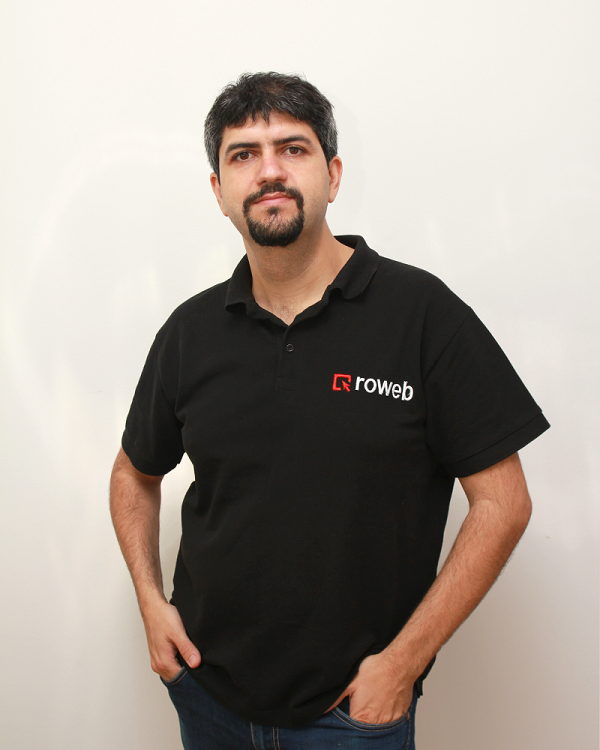 Sorin: I guess I've always wanted to work in a high-tech field because I used to like Star Trek when I was growing up, I was the typical little boy who loved toy cars, spaceships and explosions.
Gabi: I picked it up from my older brother (Catalin, also a developer at Roweb), the first computer I got to use was actually bought for him.
What did you think about the work environment when you first came here? How has it changed since then?
Stefan: There were just a few of us and everyone was friends with everyone. The first office used to have a large terrace where we would have a smoke and drink our coffee every morning, have barbecues in the summer on every special occasion, like someone's birthday, and build snowmen in the winter. Since then we've quit smoking, but we still have barbecues, now in the backyard at the Trivale office.
What does a regular work day look like for you?
Melania: When I get here, I get a cup of coffee, open the windows to let the fresh air in, check my emails and read all the broadcasts, sales ads, review members' statuses, check who's active and who isn't, then handle support requests from customers – all of this usually takes up about an hour, an hour and a half. After this, I start calling clients, mainly those who are in their free trial. I also post on social media and interact with customers all day long, including through Skype. I advertise our services, help them make the most out of the platform's functionalities, convince new users to sign up, manage the accounts of existing customers and delete accounts that have been inactive or whose users asked to have them cancelled.
Additionally, since a year ago I've been teaching English classes 3 days a week, for colleagues who are at a beginner to intermediate level and who want to improve their English. I also assign them regular homework which they submit through email. It's mainly short essays and translations on everyday topics, from work-related experiences to their personal lives. We've set up 3 groups made up of colleagues from all of the 3 offices.
Sorin: I love the location, I enjoy coming to work and meeting my colleagues, so when I get here I feel like I've already had coffee and I'm already in a good mood. I don't drink actual coffee, so it's a good thing I get the same effect like that. For most of the day, I just sit at my desk and get work done, I don't really get up until lunch. After lunch, me and the guys like to go for a walk in the woods near our office in Trivale, that's our favorite siesta. After that, we've got enough energy to keep working usually until pretty late in the evening. I typically have a lot of energy and spend most of it working, because I love what I do, and because luckily my parents endowed me with quality DNA. Other than that, I don't think I have anything special compared to others ? I think passion is the key to a success in programming… and money helps too, I guess.
What do you like about the work environment here?
Gabi: I love that it's very much like a college campus, there are a lot of young people with ideas, you're not being controlled and kept under tight supervision, you're allowed a greater autonomy, and the possibility to express yourself and grow. Everyone helps one another and the bosses are really cool.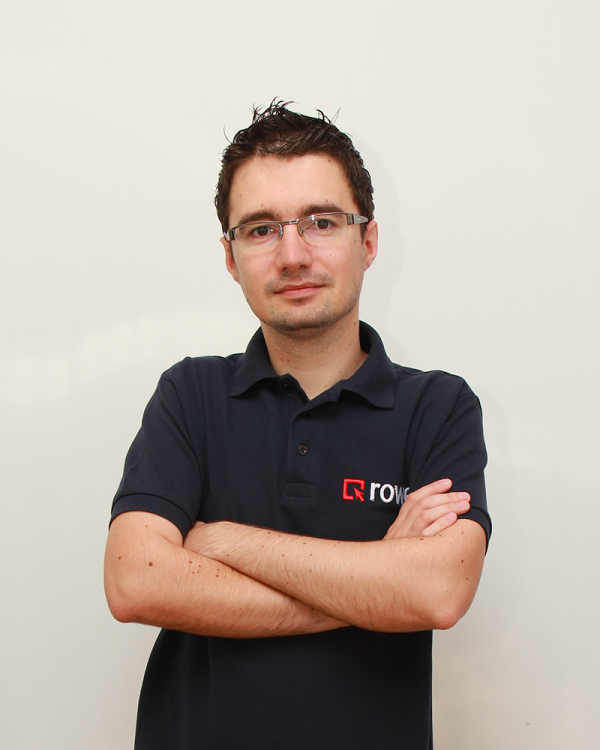 How do you like to spend your breaks?
Marius: I have coffee on the balcony, with my smoker friends, even if I don't smoke myself, I enjoy the conversations. We like to argue on all sorts of topics, from politics to celebrity gossip. This has been a long standing tradition in our office, they like to pick controversial topics, like religion, politics, football, and start debates that go on for weeks, each day a new episode. We end up splitting hairs so many times that we sometimes forget what the original topic was.
Gabi: I like to go for a walk in the woods with my colleagues, I appreciate peace and quiet more than chatter in the crowded kitchen.
How would you describe your relationships with your colleagues?
Marius: I consider them my friends, first of all, I'm not sure if they feel the same about me ? Since we spend so much time at work, I think friendship makes us more productive and positive.
Sorin: Most of the colleagues I interact with every day are also my friends outside of working hours, we go out together, play football, go to the gym or for a run, or just hang out.
Gabi: I now work in a team with Ionut [university lecturer and one of our software developers], who was my professor in college, and we get along great. I also often chat about children and parenting with Melania and Alina [also a software developer].
Do you feel like working at Roweb has influenced your development, personally and/ or professionally?
Marius: It has helped me become more organized, calm and less impulsive and hasty. I guess we all absorb models from our work environment, when it comes to attitudes and ways to approach problems, even if we don't always realize it.
Melania: To me it mattered very much that I was given a lot of confidence and support from the very beginning, when I was a bit shy and insecure, since this was my first job right after college. They kept telling me I can do this, they believed in me and this boosted my self-confidence significantly, it made a huge difference for me and I'll always be grateful for that.
Sorin: There have always been many very, very smart people working here and I've always had someone to learn new things from. I've been often allowed to dedicate working hours to learning, I've received training and opportunities to attend conferences… I can definitely say that I owe my professional ascent to the people at Roweb, they're always willing to let you try new things if you can prove why they're a good idea. On a personal level, I've gained some weight from a Coke-and-croissant diet, but I've also met Cosmin [another one of our software developers], my wedding godson.
Gabi: I've learned to be less shy and more talkative, and on a professional level I've always been challenged to learn new things thanks to the constant evolution of the project I work on.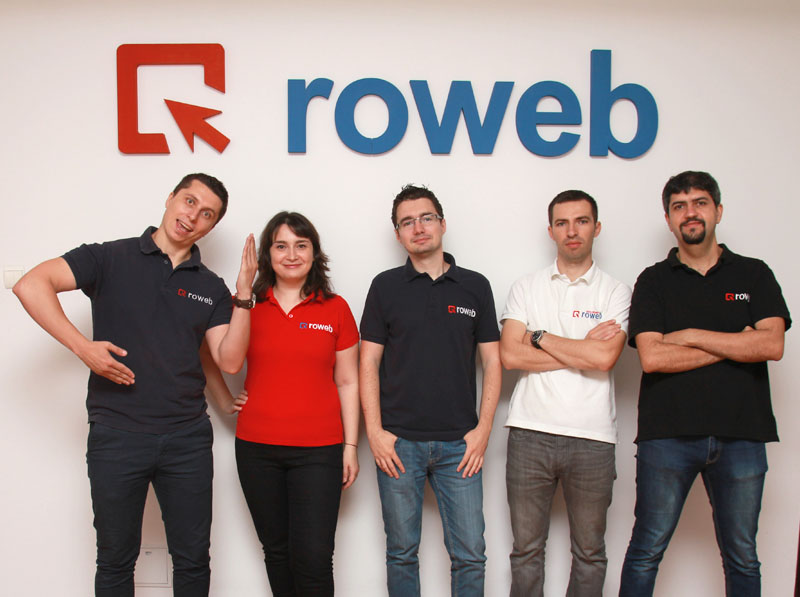 What would you say to someone who considered applying for a job at Roweb?
Marius: They should give it a try and see if this is the kind of environment that works for them. Some people might prefer a corporate environment, and this is not what we have here, but others will thrive in the kind of culture that we foster.
Gabi: They should go for it. It's an advantage if they invest some time to learn on their own beyond what they're required to study in college.
Sorin: Don't ask for too much money at the interview ? I'm just kidding… again. Seriously now, what matters is that they're passionate and dedicated, and willing to learn new things. They do need to have at least a basic level of technical knowledge to build on, but what matters most is their willingness to learn, everyone here will support them as they grow. Also, it would be great if they're into sports.