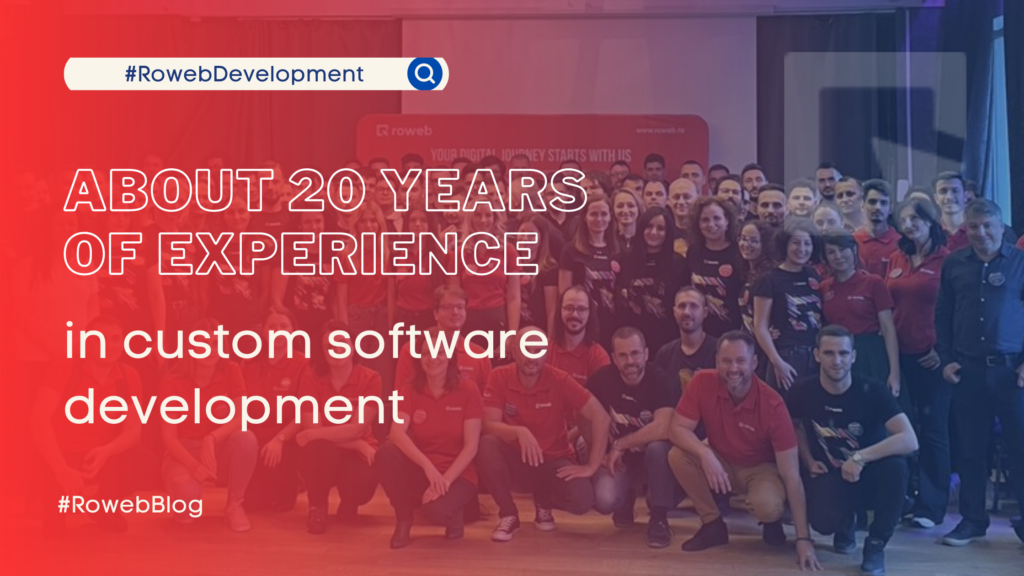 How we started
In 2004, we started as a small team. One former teacher (CEO & Co-Founder Viorel Costea) and its (also former) students (Gabriel Rosu, Mirel Ionescu, Razvan Veliscu) reunited after some years, but unchanged in their passion for IT, and decided to work together.
Our first projects were, from the beginning, challenging and exciting at the same time, with the main focus on developments that were only in their early years on the worldwide markets.
"Our very first project was a B2B portal: IT TradeOnline – a trading platform for second-hand computers from the US. This B2B portal provided our first custom software development projects for the international market. Moreover, we developed some projects in Romania – BursaPC being the most successful one at that time. Looking back, starting a company from scratch and developing IT projects for such a young market were bold steps, even for an IT team. But if I had to choose to do it all over again, I'd still have no hesitation." ( interview with Viorel Costea – CEO & Co-Founder)
Approaching a niche market with growth potential was great, but more was needed. We also wanted to spread the word about our company and generate awareness in both national and international environments for Roweb as a brand.
"One of the most critical directions I took in the company from the beginning was the off-line and online marketing part. It takes a lot of work. When Roweb started to exist as a brand in the tech market, digital was still taking its first steps. Companies began to see it as an opportunity, but they needed to figure out exactly where and how to start. At the same time, the digital marketing channels were also still in the Romanian market.
[…]
From the website structure to the texts and the visual approach, I was 100% involved in building a brand in the digital environment. Then came participation in business and tech events. (There were more and more channels through which we communicated at the time, but I think these two are by far the most important – hence our first qualified leads that later became customers)" (from the interview with Mirel Ionescu – Managing Partner)
Relying on hard work and constant professional growth, we made possible the expected results… and much more. In only a few years, Roweb had a stable portfolio, received recommendations for developing new challenging projects, and grew its team by attracting skilled professionals from the local market.
"In 2006-2008, I remember that there was a growth boom for us. Practically, a few years later, we created the Roweb company. We switched to .NET technologies and started working with larger clients.
An example of a client I worked with was First American (developing banking systems based on payment processing). Then, I learned a lot about large databases, applications with millions of transactions and modern software architectures – for example, web services. Practically, we had the opportunity to work with people from outside the company, thus seeing how they approach things. I would say that this was a turning point for me as well, at least from a technical perspective." (interview with Gabi Rosu – Managing Partner)
On our way to development, we faced diverse challenges, from adapting fast to new industries or specific project requirements to understanding each client's needs and providing them with technical advice that suits their business's focus.
"The biggest challenge comes from the fact that you have to help everyone find their place in the team and help them choose what suits them best.
And this is in a much-changed context. I started by coordinating a team with two people, and I have 25 developers I work with today.
Each client comes with its challenges. However, each client has a personality and way of managing the project. Therefore, everyone is different, even if the industry/type of application is the same. Some clients have a solid technical background and know very clearly what they expect, but clients need consulting to define their development needs correctly.
Of course, it is easiest for us to work with those with technical knowledge, but the challenge of offering consultancy to those who need guidance is exciting." ( interview with Razvan Veliscu – Managing Partner.)
Now, the company is incomparably larger, with about 150 developers, teams in multiple cities, offices in several cities in Romania, a portfolio consisting of 80% of projects developed for the international environment, and clients from countries such as: Belgium, Netherlands, Denmark, Switzerland, USA.
Why did we choose custom software development (and not intending to leave this niche)?
Custom software development stands as a powerful niche in the IT industry due to its ability to deliver tailored solutions that precisely address businesses' unique needs and challenges. Unlike off-the-shelf software, custom development allows organizations to design applications seamlessly integrating with their existing systems, optimizing efficiency and productivity.
We chose this bespoke approach mostly because it can be especially advantageous for industries with complex processes and stringent security requirements, such as healthcare and finance. Additionally, custom software development offers the flexibility to adapt to evolving business demands. As market conditions change, companies can readily update or scale their custom solutions, ensuring that their software remains a strategic asset rather than a constraint. In this era of rapid technological advancements, the custom software niche empowers businesses to stay competitive by providing them with the tools they need to outperform their competitors.
Moreover, through custom software development, we can provide greater control over data security and compliance. In an age where data breaches and regulatory requirements are a constant concern, we can help businesses take a proactive stance to protect their sensitive information and adhere to industry-specific regulations.
What are the main services that we provide?
Our services cover a wide range of business apps such as CRM, ERP, CMS, and management apps, as well as mobile apps for Android, iOS, cross-platform environments and eCommerce solutions.
Our approach is about covering end-to-end software development solutions by building multi-stack development teams and adapting to our clients' necessities, resources and processes.
The services we usually provide in a project:
Full-stack software development – relying on valuable professionals and mainstream tech stack technologies.
Business analysis services – We usually start every development project with a business analysis (software consultancy) phase to:
define the project objectives and desired outcomes;
identify the company's specific needs and challenges;
select the right technologies for the project;
access all the data needed for building the Software Requirements Specification (SRS);
translate your requirements and expectations into technical solutions;
estimate the work effort correctly.
Systems & applications architecture – Our systems & applications architecture services lay the foundation for a seamless end-to-end software development process, empowering your organization to thrive in the digital age. The expert architects specialize in designing robust and scalable systems and applications that align with your unique business requirements. By carefully crafting the architecture, we ensure a solid framework that supports efficient development, integration and future growth.
Cloud integration & migration services – End-to-end expertise in various cloud platforms and seamless connectivity and integration across all channels and devices.
Software testing, QA services – During the development process, testing is conducted through the Agile methodology, which involves working in sprints with each sprint, including a Testing Stage. This approach allows the customer to see the product early on, make decisions and request changes.
Software maintenance and support services – Our first step towards providing adequate maintenance and support is to comprehensively understand your business goals and the solution you use. Then, we familiarize ourselves with your systems' functionalities and features to offer the most suitable recommendations for updating and supporting them.
Outsourcing models that we rely on for developing custom software solutions
We help companies accelerate their digital transformation journey by relying on flexible outsourcing models adapted to their digital projects'/company's needs.
END-TO-END DEV CAPABILITIES
Our end-to-end and fully customizable software development services are made possible by our ability to fulfill all required roles within a project team and draw upon the expertise of our experienced developers.
Control over the process: Anytime
Responsibility for Execution & Deliverables: Us
Flexibility: High
Team Scalability: Adapted to your project's dynamic needs
STAFF AUGMENTATION
Broaden your internal team by leveraging the expertise of digital transformation specialists such as architects, developers, QA professionals, UX/UI experts, graphic designers, DevOps, and scrum masters through outsourcing.
Control over the process: High
Responsibility for Execution & Deliverables: Shared
Flexibility: High
Team Scalability: Adapted to your project's dynamic needs
DEDICATED DEVELOPMENT TEAMS
According to your level of expertise, we create dedicated development teams exclusively for you, whether it involves starting from scratch or integrating with your existing in-house teams.
Control over the process: Anytime
Responsibility for Execution & Deliverables: Us
Flexibility: High
Team Scalability: Adapted to your project's/ your business dynamic needs
EXTENDED TEAM
According to your level of expertise, we create dedicated development teams exclusively for you, whether it involves starting from scratch or integrating with your existing in-house teams.
Control over the process: High
Responsibility for Execution & Deliverables: Shared
Flexibility: High
Team Scalability: Adapted to your project's dynamic needs
Projects that talk about our expertise