With the participation in MWC Barcelona (an event with tradition for Roweb), our team's attention turns even more towards custom Fintech solutions. Thus, their popularity has grown considerably lately, with more and more entrepreneurs concerned with choosing intelligent solutions to improve their processes.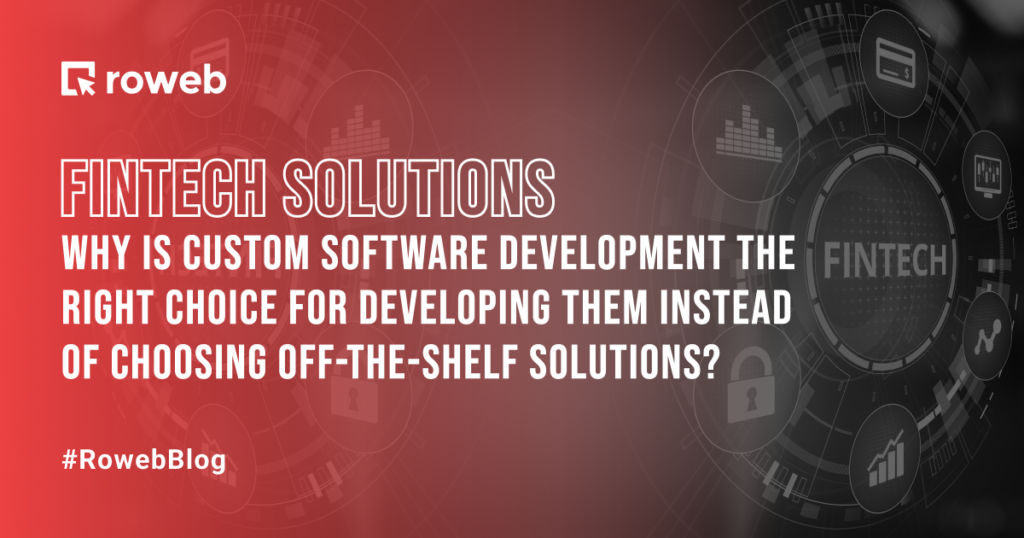 Fintech solutions in the current context
The "new normal" or "post-pandemic reality" defines the current context. Along with this concept, studies show that users need secure financial solutions that allow them to access them remotely, quickly and efficiently.
Moreover, technologies such as the Internet of Things (IoT), Cloud Applications, Artificial Intelligence or Blockchain are not only topics of interest in the software industry, but aspects that are gradually changing our lifestyle and that easily integrate into all industries (and especially in fintech).
Thus, here are some types of fintech solutions that you can develop with a software development team:
Big Data Analysis
Insurance solutions
Applications based on virtual currencies (cryptocurrency)
Neobanking solutions
The future is (fin)tech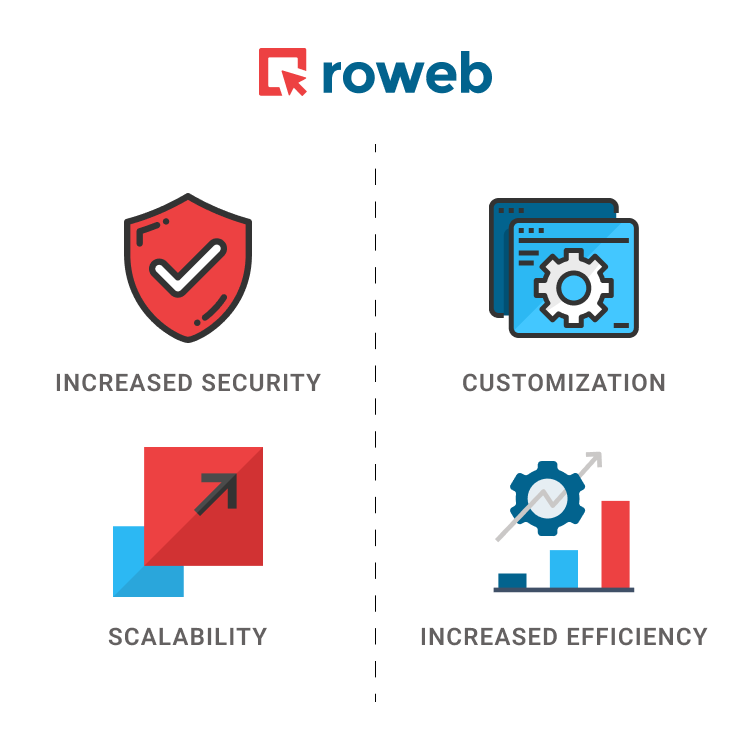 As you can already guess, this trend of adopting tech solutions is increasing, and a real revolution is also expected in finance.
Several factors, including the accelerated trend of intelligent mobile devices and Internet usage, the growing middle class in developing countries and the aging population in developed countries, contribute considerably to this tendency.
If you are interested in developing a fintech solution but have no idea whether to choose a custom or predefined version, the information in this material may be helpful.
Please take a look at our recommendations below.
Why is custom software development the right choice for developing them instead of off-the-shelf solutions?
According to statistics, 64% of digitally active customers worldwide have higher expectations for Fintech solutions and need fast applications that allow them to use financial-banking services from anywhere and streamline processes by creating a coherent flow of their use.
Along with this, developing custom fintech solutions can come with great benefits such as:
Fewer software development limits & boundaries – since it gives you the freedom to add all the functionality you need to a project. Starting from business analysis, you can decide, together with the software development team, which are the best functionalities that give users the experience they need.
Also, an essential aspect of this service is the technical consulting part you receive from the developers, regardless of the outsourcing method you choose: extended, dedicated, or project-based team.
Increased security level. Security is one of the most critical aspects of fintech applications. However, it should be a severe concern for app owners because users provide sensitive data (such as card details and complete personal information), and they trust the finance solutions to be safe. The great news is that a custom solution allows you to add the highest level of security.
Originality and competitive advantage. By developing a custom solution, you enjoy the freedom to give your application all the specifications it needs to acquire an original interface. In addition, this is one of the best ways to gain a competitive advantage over competitors' solutions.
Adapting to dynamic market trends. A custom solution that can receive the necessary updates is a priority for many entrepreneurs. Thus, there is no surprise that the fintech industry is recognized for its dynamism and accelerated rate of evolution.
Scalability. As a company grows, so does its need for change. And custom software can keep up with all these changes because it's not as rigid as standard solutions. The best recommendation for entrepreneurs is to consider the need for long-term development.
Other aspects to take into account when choosing custom fintech solutions:
Their development time may be longer. As a general rule, the development time depends on aspects such as the availability of the software development team, its experience, and the project objectives etc. The more complex the project, the longer the development period will be.
Technology influences the process. The development of the application also depends on the chosen technology. Some technologies are popular options for developers. So it is easy to find experts to handle implementation, but there are also less attractive technologies, and you could have difficulties finding the right team.
App development budget. App development also depends on how much you are willing to invest in getting the desired solution.
Project stories | Portfolio insights: custom projects from the finance industry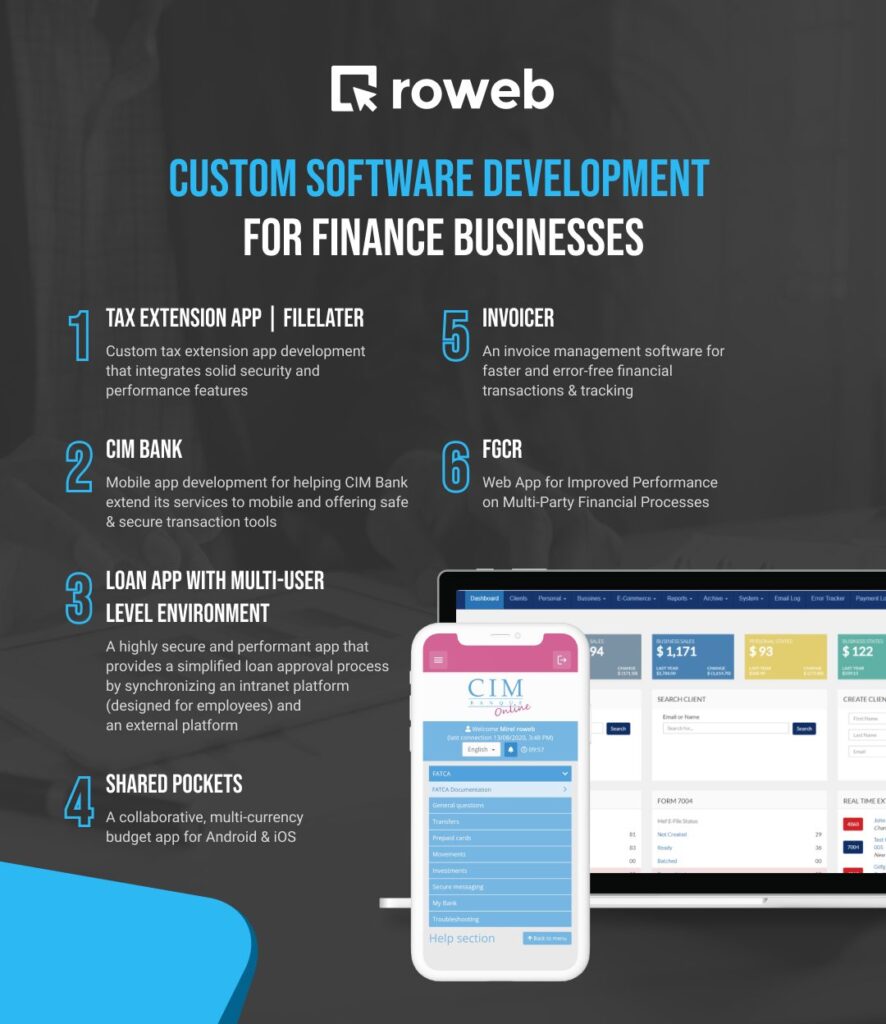 Tax Payment System Extension Application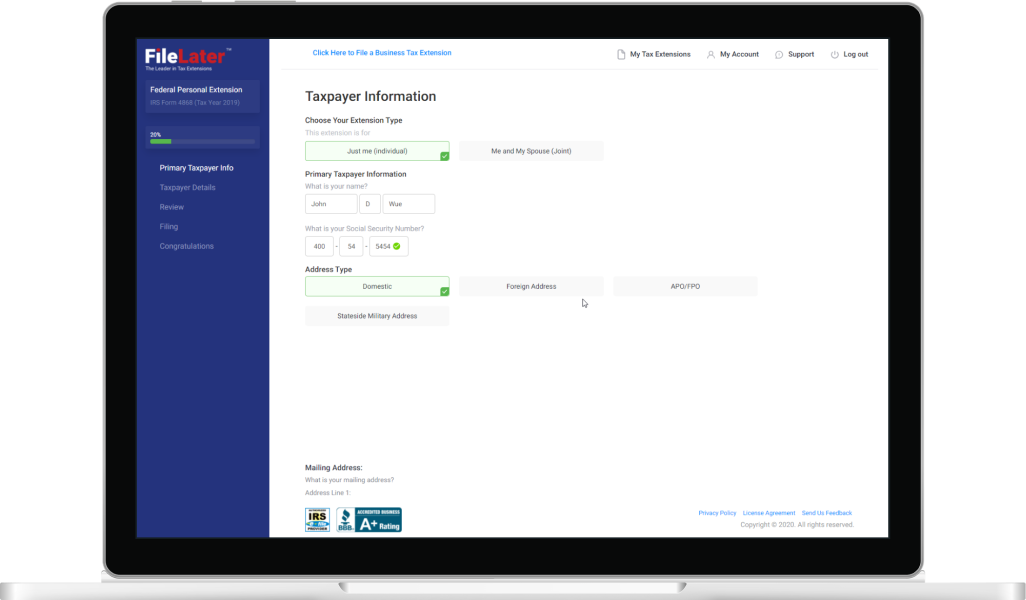 Why did the customer choose a custom solution? The client opted for a custom finance solution because his need to develop an application that would allow postponing the tax payment deadline could not be fulfilled otherwise. He also needed a robust solution with a high-security system.
Custom application developed for a famous bank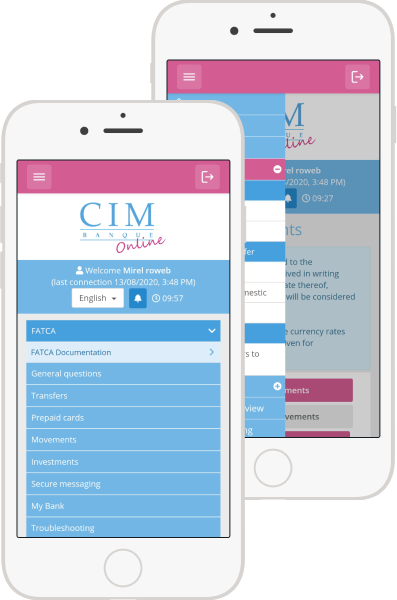 Why did the customer choose a customized solution? CIM Bank, although it complies with the legislation in the field, like the other Swiss banks, needs its own solutions, which result from the personalized services it offers. Thus, CIM Bank asked the Roweb team to develop a Mobile-first solution, which enables secure banking operations and an innovative communication system for all those who interact with the institution's specific services.
Loan app with multi-user environment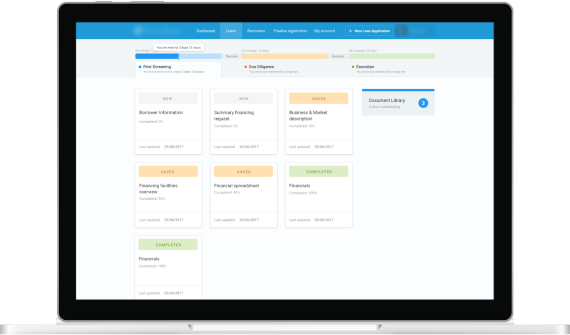 Why did the customer choose a customized solution? Our client is a specialist lender providing long-term loans to Small and Medium-sized Enterprises in Germany, Belgium, the Netherlands, and Luxemburg. He wanted a highly secure and performant app that simplified the loan process and made its company an outstanding customer option.
Personal budget management app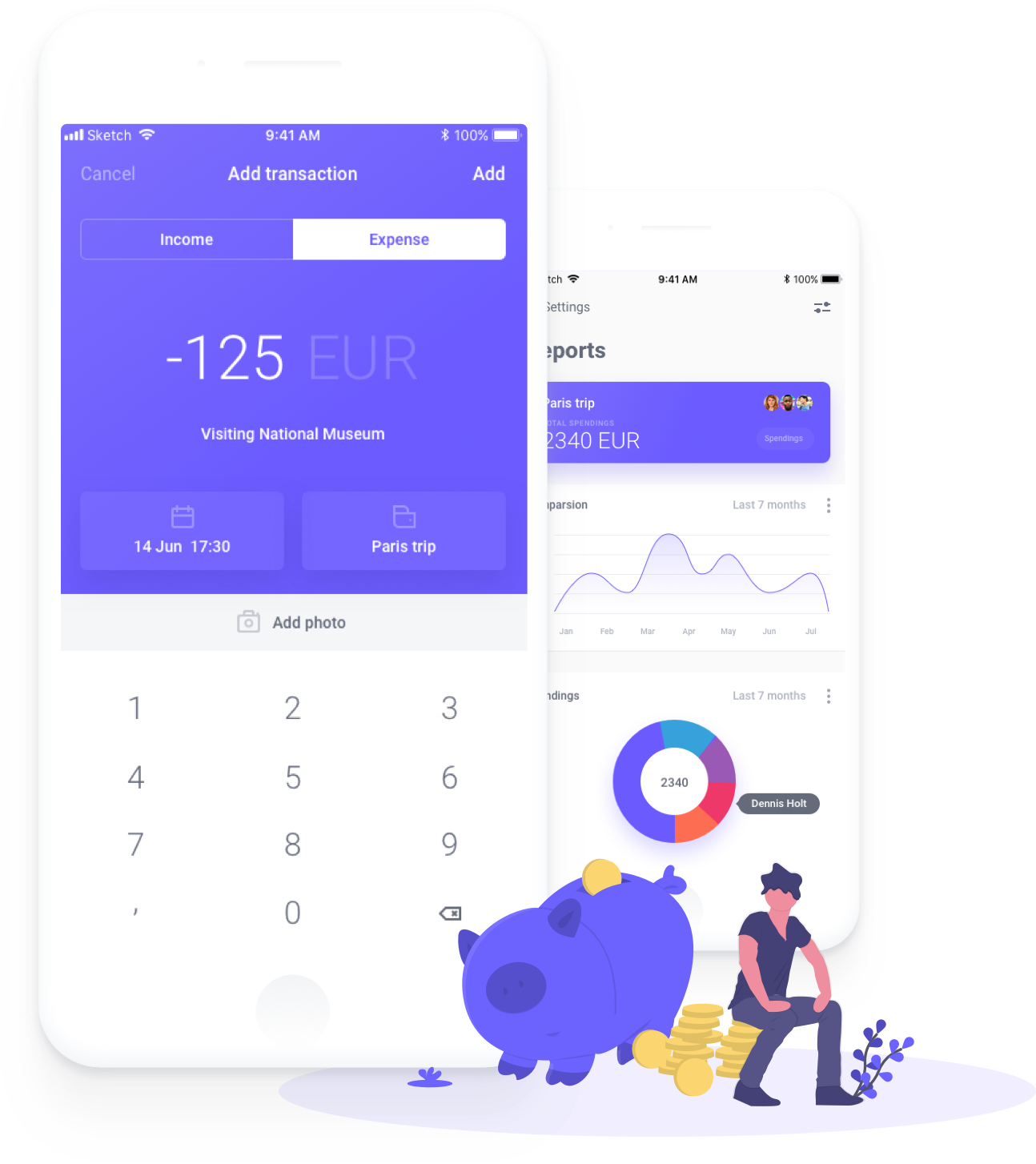 Why did we choose to create a customized solution? The Shared Pockets app allows accurate budgeting of an individual's or family's income, setting goals to save money, and sharing the budget among multiple members who have downloaded the app. The main goal was to create a solution that could adapt to various needs, regardless of the types of coins or cryptocurrencies chosen or the number of users involved in money management.
Invoice management software solution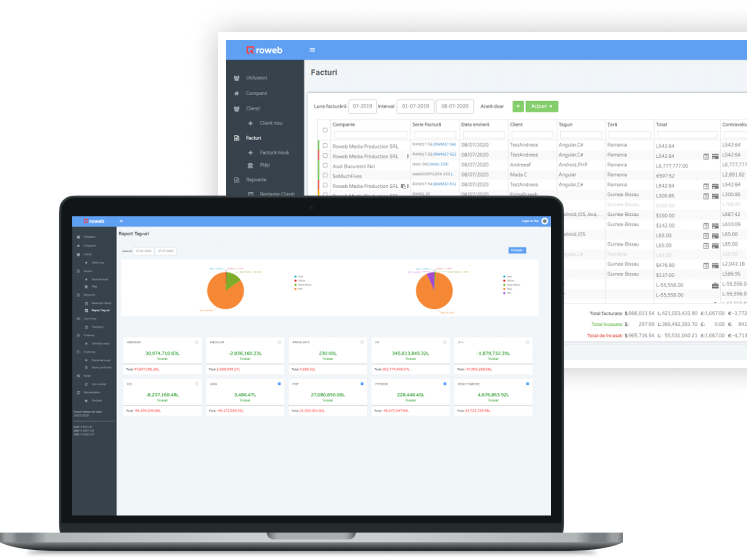 Why did we choose to create a customized solution? To automate and reduce the time invested in repetitive actions, we created a platform that provides complete control over issuing invoices and financial flows for our financial-accounting department. This was thought of as a complex but, at the same time, intuitive solution, which helped our colleagues to streamline work processes and increase productivity.
Web App for increased performance on financial processes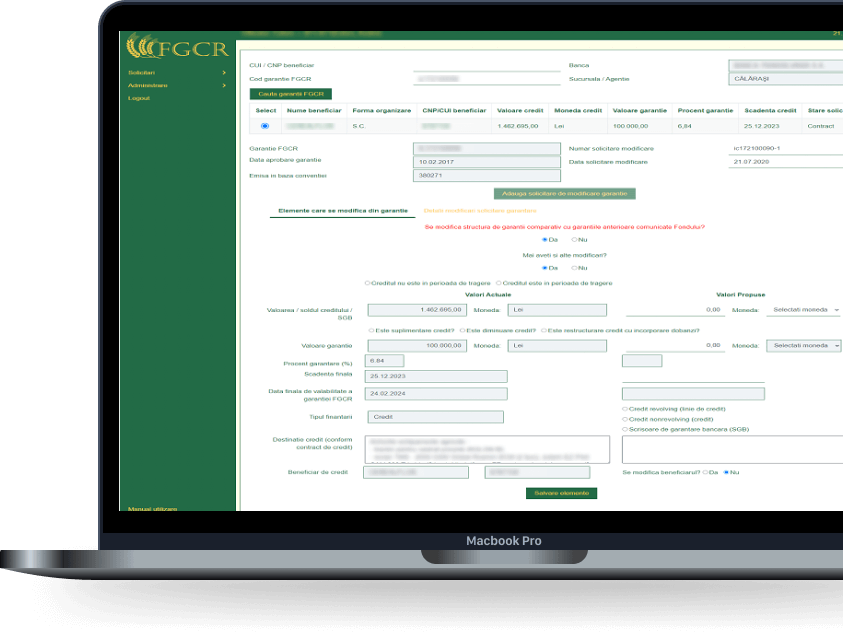 Why did the customer choose a customized solution? The client was looking for a technical solution that could be synchronized with an existing app, simplifying and shortening internal and external workflows (online registration of guarantee requests by the financing institutions /banks and a faster and facilitated exchange of documents between the parties involved in the processes). Thus, we analyzed the data flow and identified its specific data collection, storage, and synchronization needs through an online module connected to the existing application.
Why Roweb is your reliable partner for the development of fintech solutions:
Regardless of your business location, Roweb has partnerships with clients from over 30 countries: Belgium, Holland, Switzerland, United Kingdom, USA, Canada, and UAE are just a few examples.
All software developers in the Roweb team are fluent English speakers, and more than half have senior experience. Thus, you can rely on the expertise of a reliable team without worrying about cultural-linguistic barriers.
Roweb offers fintech custom end-to-end solutions, managing to cover all the roles needed in a project: from software developers to business analysts, QA engineers, and the list goes on.
The working process based on the Agile methodology helps Roweb to offer flexible solutions, adapting to the customized requirements of customers.