Contactless services became the new normal
Human interactions are priceless. Still, staying safe remains the prior objective for both companies and customers.
Let's take a restaurant for example and try to put yourself in your customers' shoes.
Every time you go with your friends and family at the restaurant, you want to enjoy the experience, be relaxed, free your mind and put all your worries on pause.
But it doesn't mean you are about to ignore all the risks. So, every time you'll see a waiter without wearing his mask or you'll browse a menu that was used so many times by so many customers, you'll ask yourself "What if…? Is it safe?".
Unfortunately, being worried about you/your family's safeness is natural, even more so in the current context.
Fortunately, several businesses understood that they have to make a change to keep selling without putting anyone in danger.
(I bet you thought that, too.)
Based on these needs, we've developed contactless systems for several industries.
Take a look at the following examples:
Ordering from distance
Accessing an online menu and even ordering is as simple as possible by using a QR code or an NFC tag.
By scanning a code with their phone (that can be printed on a flyer, for example), the customers can instantly access the online menu and launch an order.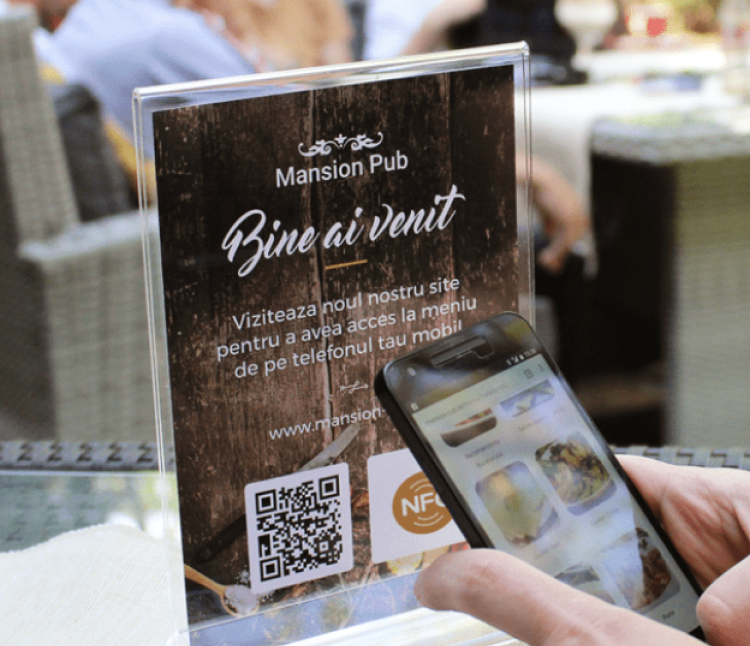 Giving feedback through mobile
In addition to the information gained from analyzing customers' behavior on the website, we enabled companies to gain even more insight into customers' experience and how to improve satisfaction levels: NFC tags and QR codes are used to direct customers to an online survey, making it easier for them to give feedback about their experience.
So, for example, restaurants can receive feedback and reviews (displayed only for restaurant's staff) directly in the smartphone application (1-3 stars: the user is asked the reason for the low rating, 4-6 stars: the user is redirected to place reviews in Tripadvisor, Facebook and Google Places).
Gathering data for invoices
Accessing an account and gathering data for invoices became as easy as possible.
By only scanning a QR code with their phones, a company's employees can instantly access a client account and import relevant data only for invoices.
For instance, we used that system for our app SmartSanitation (but it can be implemented for other industries, as well).
Using the mobile phone, the waste management company's employee can scan the QR from the bin (the QR code representing the contract number).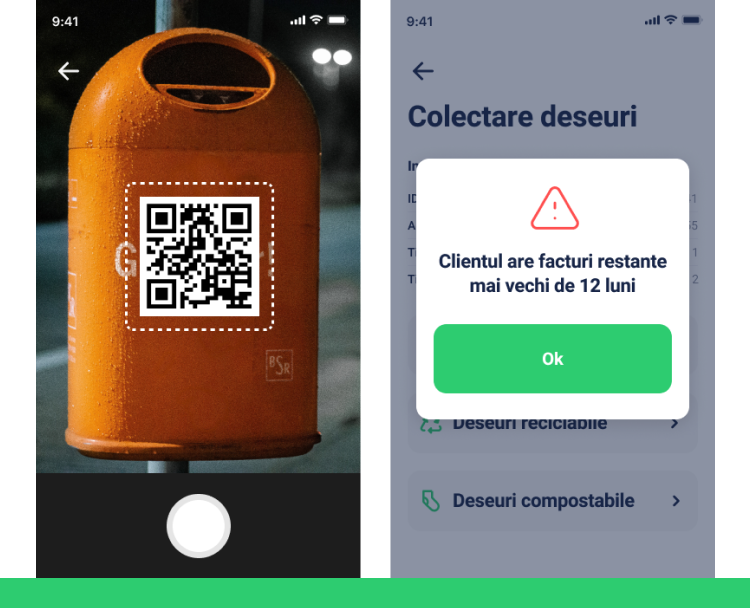 Safe interaction at the workplace
Today employees choose if they want to come to the office or prefer working from home. Sharing common physical space at work seems to come from another era.
What both managers and employees want now is to be part of a balanced and safe environment, where remote work and physical interaction find a way to work together best.
In other words, hybrid systems gain their place in organizations.
For managers, these types of systems mean not only a solution but also a great challenge:
efficiently tracking teams' work;
providing real-time support;
safe and smart interactions;
remote evaluation;
correct calculation of project cost;
real-time access to documents.
Inspired by our own organizational needs, we've created TimeReport.
With teams in 4 Romanian cities and partners, collaborators, and clients in even more (national and international) locations, the project management (from working hours and invoices perspective) was challenging.
So, we decided to develop a portal able to respond to different types of users (employees, managers, admins) at multiple levels (task management, billing, reporting, etc.): TimeReport.
Features and functionalities:
multi-users platform;
UX/UI design;
role-based authorization – the portal integrates 3 types of roles: users, managers, admins. For each role, tabs from the menu are displayed differently. (Role-based authorization using Microsoft ASP.Net Identity. User ID & password-based access);
users management (add/edit/delete);
smart filtering (by date, project, client, etc.);
push notifications send to users alerts on several topics (projects, invoices, and hours reports);
tags and categories management;
custom reports (Timesheet reports, User Reports, Clients Reports, Overall Reports);
invoice generator/invoice management/invoice delivery (to the client).
Another interesting solution developed by our teams (also inspired by internal organizational needs) is Invoicer.
The Invoice Management Software is shaped as a digital framework capable of integrating different financial actions and operations to ensure productivity through intelligent filters and automated features.
Based on the project's requirements – mainly defined by our colleagues from the financial department – we've designed an invoice management platform that is able to respond to both users' and managers' needs.
Our main focus for developing this invoice management software was on providing flexible tools for data management and export, smart data displaying for a faster and better overview and automated processes for eliminating redundant and time-consuming activities.
No more waiting inline
The most annoying thing about paying your taxes (apart from the fact that you periodically give up some of the money) is that you usually waste significant time in line for doing this.
The same happens with the submission of complaints.
The solution?
Remote payments/ postponing payments/ sending complaints and notifications.
So, we developed two types of solutions.
A custom tax extension app with robust security features that can be adapted for several business types.
Features and functionalities:
dynamic and intuitive data collection from disparate sources;
real-time synchronization with municipality's servers and fast submissions;
extensions generators both in digital format and in pdf format (so requests to be also printed);
complex dashboard that provides access to real-time stats and reports;
marketing module;
deployment in Cloud for Microsoft Azure;
high scalability;
key-features for performance in order to support a large number of concurrent users.
The second: a multi-platform digital system for managing incidents and communication in cities.
It integrates 3 main platforms to assess both citizens' and municipalities' needs:
MOBILE APP: iOS & Android app designed for citizens so they can access information on events/ announcements and place complaints directly from their phones;
ONLINE PORTAL: extending the municipality services through an intuitive and communication-only website – optimized for mobile and search engine algorithms (e.g., Google);
BACKOFFICE WEB: intuitive system designed with the municipality staff in mind for real-time receiving and managing the citizens' complaints and requests.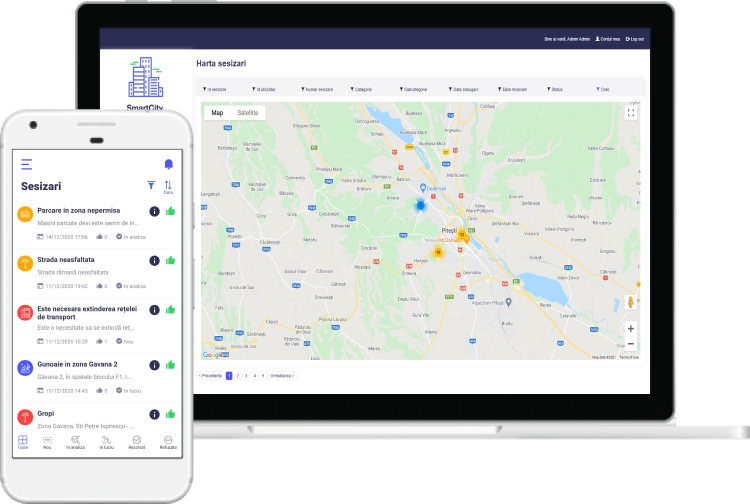 Pay as you generate/consume
This is a trend that is becoming more and more obvious in many industries.
For offering safe, fair and high quality services, companies are looking for dynamic digital solutions that are able to provide all these.
This is exactly the premise on which we've built SmartSanitation, a waste management solution developed with a dual purpose:
as a complementary module for SmartCity solution – to provide communities and municipalities with extended features & functionalities;
as a freestanding complete solution for sanitation that addresses both clients (household clients and municipal organizations) and waste management companies' specific needs.
Designed as a modular waste management solution based on the "pay-as-you-throw" concept, SmartSanitation integrated 3 main apps:
dedicated mobile app for waste collectors;
management web cloud app with several modules (CRM, Operations, Financial, etc.);
dedicated mobile app for the final client.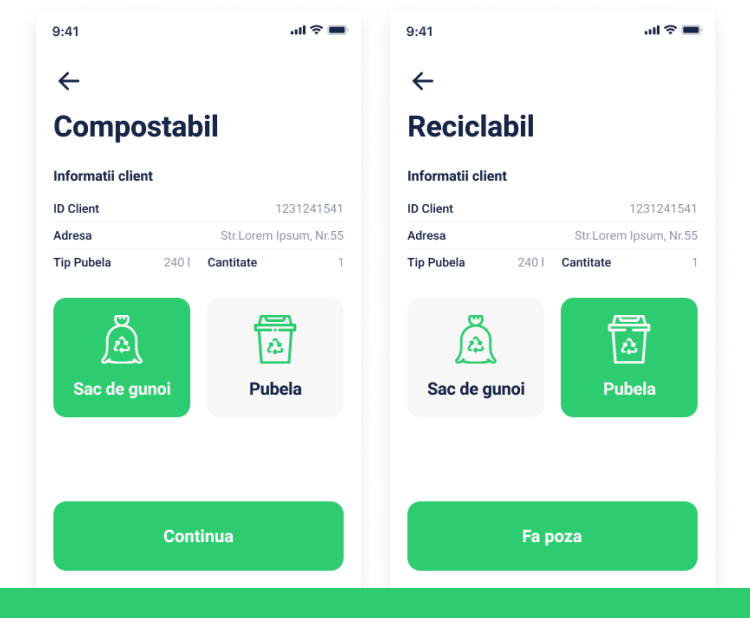 Real-time tracking
This is a trend revealed especially in the fleet management industry. For some time in this field the needs are more and more obvious in the direction of remote management. And the pandemic context accelerated this trend adoption.
That's why we created a prototype APP for online taxi booking that is developed with several dynamic features (for both Drivers and Clients).
The APP is able to respond fast to the early adoption needs but also can be customized fast according to your specific requests.
TAXI APP brings together Drivers and Clients in a common platform where they can easily access key-features like matching in seconds orders with available taxi services.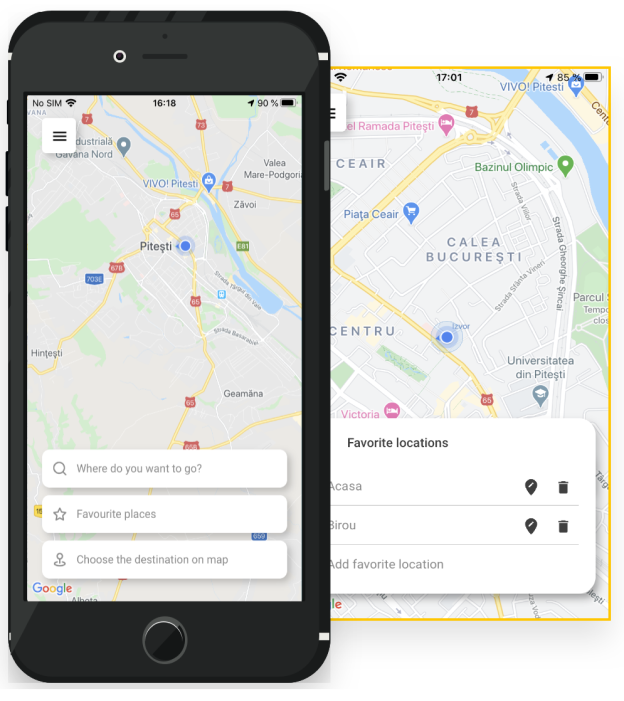 Another great example is TaxIoT.
TaxIoT, off-the-shelf web solution for taxi fleet management (IoT-based)
taximeters remote monitoring and control made-easy;
dedicated features for getting full compliance with the National Regulations;
real-time interconnectivity & data transfer for physical devices and the web solution (IoT).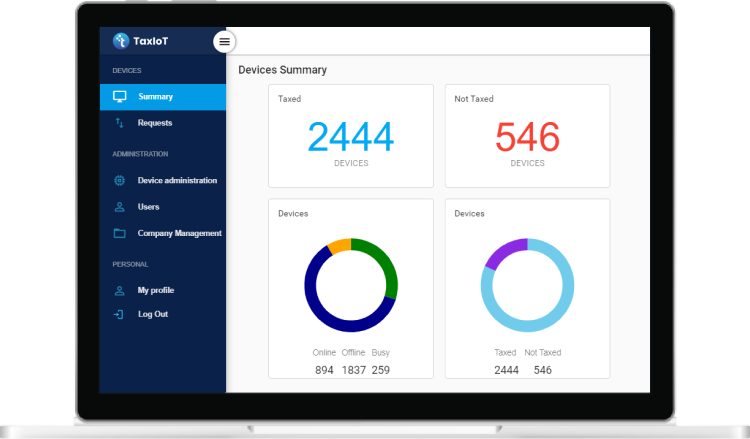 No more limits for communication and education
We have all seen what happened to education when the pandemic broke out. Those who were already using remote solutions, quickly adjusted. Those who did not use such solutions, had to test existing solutions in the market and encountered a number of limitations.
In this context we've developed a dedicated educational solution for one of our clients that owns a labor protection company from Romania (but the solution can be adapted to several industries and specific needs):
multi-level platform (role-based) & multi-login (users with/without account);
fast and intuitive content management (user management, tests, courses, etc.);
SCORM (Sharable Content Object Reference Model) integration.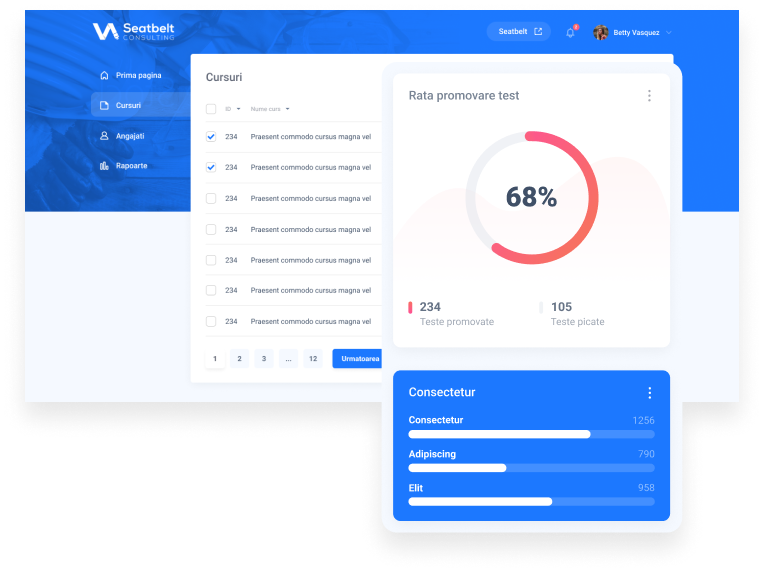 One-stop-solution for smart trading
Online trading – no matter the industry – is a nowadays story.
Still, the switch from offline to online trading was more challenging for some industries than others.
For instance, while for retail companies migrating to online was somehow a natural next step, for real estate ones this migration involved a lot of effort and flexibility.
That's why we created a dedicated platform (that can be adapted to several industries and business types – e-commerce included).
The custom marketplace platform integrates most useful specific features (custom filters, smart matchings, push notifications, market trends & analytics. etc.)
Developed for 3 types of users;
Multilingual and multi-currency platform;
Smart search filters integrated into a responsive design that works seamlessly on both mobile and web devices;
Several DISPLAY features (recommended, latest, most viewed, on the map, etc.) that are able to generate relevance and shorten the trading process;
Instant access to useful insights on the marketplace's trends (sales evolution indicators, rentals on price/mp2, location, city, etc.)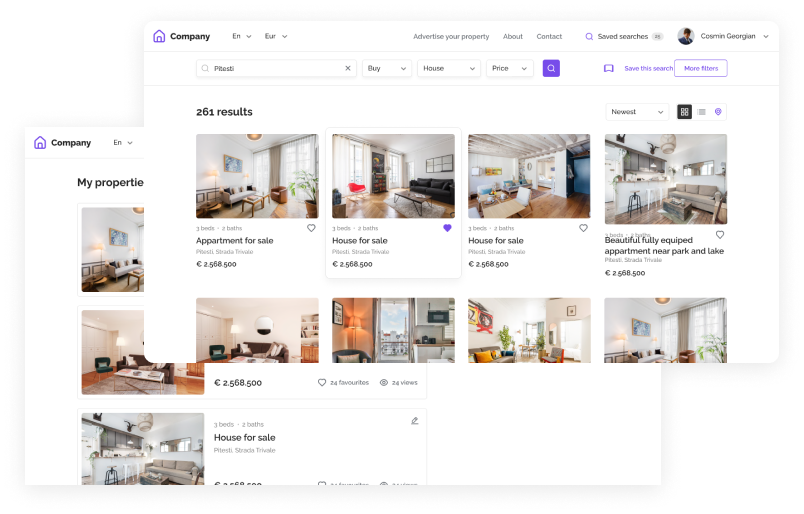 Should you choose Roweb development?
Clutch operates a sister site called The Manifest that helps business buyers find service providers for their upcoming projects. They also offer potential clients a How-To Guide for using the services of a third-party business for clients to use if they wish to employ services of the firms found on the site.
According to The Manifest's 2021 research, we ranked second at the Top 20 C# Developers in Romania list and we invite you to check us out!
Our clients are truly the reason why we are where we are today. We look forward to connecting with new partners in the future! Let's get in touch if you'd like us to create or revamp a platform today!
TECHNOLOGIES THAT WE USE:








METHODOLOGIES
Agile
Scrum
Kanban
Waterfall
ROLES WE PROVIDE
Project managers
Business analysts
Developers
Q&A specialists
Scrum masters
UX Designers