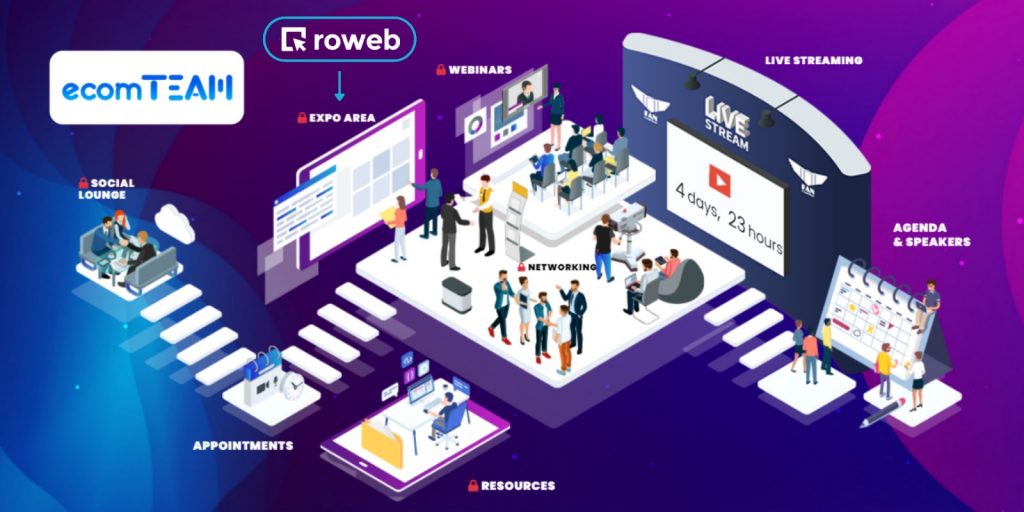 As we announced on our Social Media pages, the fall of this year is expected to be quite full in terms of participation in tech, eCommerce & business events.
And the first meeting of the 2022′ series is ecomTeam.
Why did we choose to say "Yes" to this event?
Participating in events like ecomTeam, as an exhibitor is part of our strategy to help clients adopt and implement innovative functionalities, which will help them in the digital transformation process.
Each event is an opportunity to show through real examples from the portfolio how we improved the conversion rate of those who chose our eCommerce services.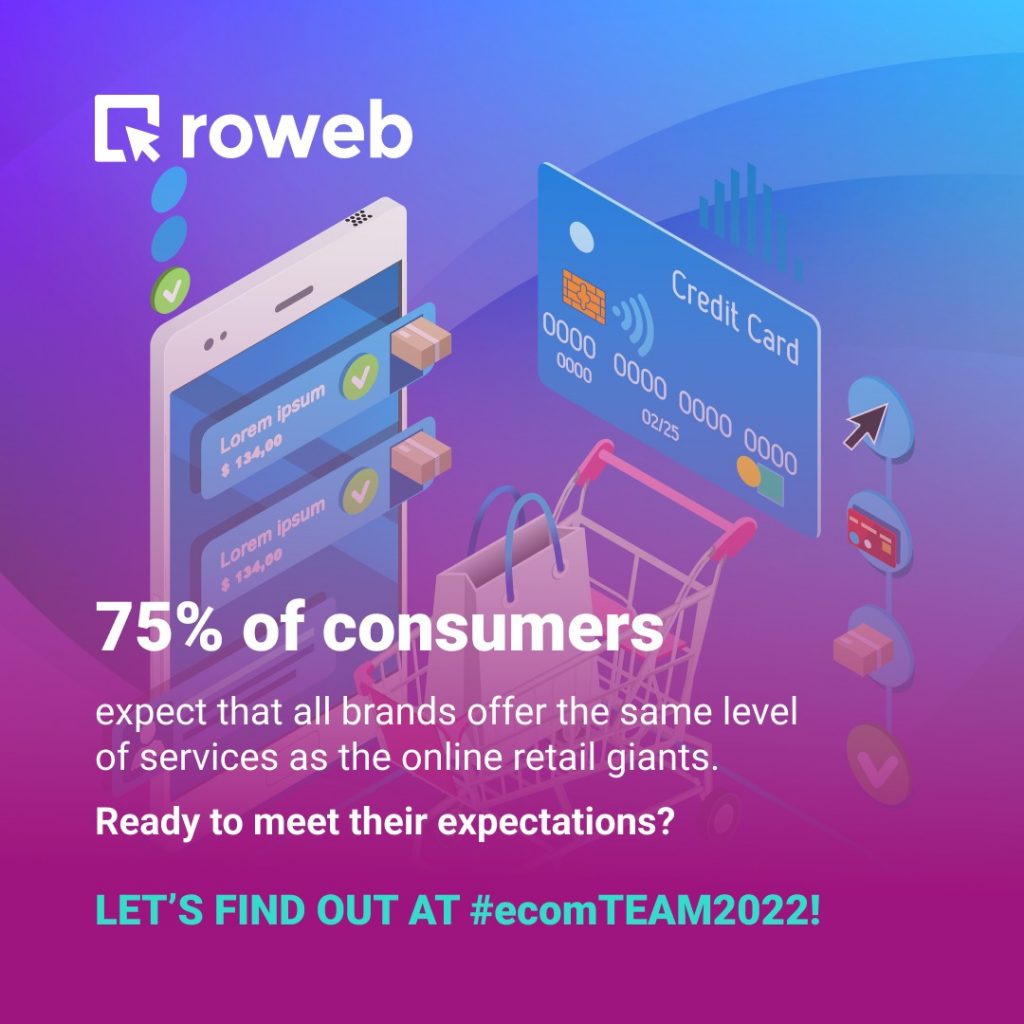 Even more so, the eCommerce part represents an essential department of our activity, and we believe in its development potential, together with a challenging industry.
In addition to the development of online stores and complex platforms, our services also mean:
data migrations from one platform to another (for example, from Magento to Magento 2);
updates of existing stores and platforms with new functionalities;
3rd-party integration systems;
maintenance of the eCommerce platform or application;
CRM development;
implementation of own solutions (such as Searchency – an internal search system that can increase the conversion rate by 43% or Horeka – a complete solution for restaurants – which includes a digital menu, card integrations, online ordering system etc.).
Moreover, through the technical consulting service we offer to each client, we always seek to find the best solutions to help them save significant resources and increase their sales.
Details about the event
Although Roweb is attending ecomTeam for the first time, the event in the heart of Transylvania is in its twelfth edition.
Year after year, the organizers bring together impressive names from the eCommerce industry who want to help the participants better understand the dynamics of the industry and align with the trends.
Moreover, this edition will not be an ordinary conference but a team building, in which exhibitors and visitors can exchange impressions, ask questions and discuss how they could offer end customers a superior shopping experience.
This year's speakers include Oana Dumitrescu – Industry Manager at Google Romania.
The event is organized in partnership with Wall-Street.ro – a publication in which Roweb also appeared.
The concept is addressed to all online store owners, regardless of niche.
As we said above, we take advantage of the presence at the profile events to show what our experience means. However, here are some concrete examples we will highlight at our stand at ecomTeam.
Products developed by Roweb – quickly implemented on any type of e-commerce businesses
Horeka – Complete digital solution for restaurants
Horeka is a digital solution developed by our software teams and also a trusted partner of every restaurant that wants to sell more through a digital solution. It comes with great advantages such as 0 commissions and unlimited orders.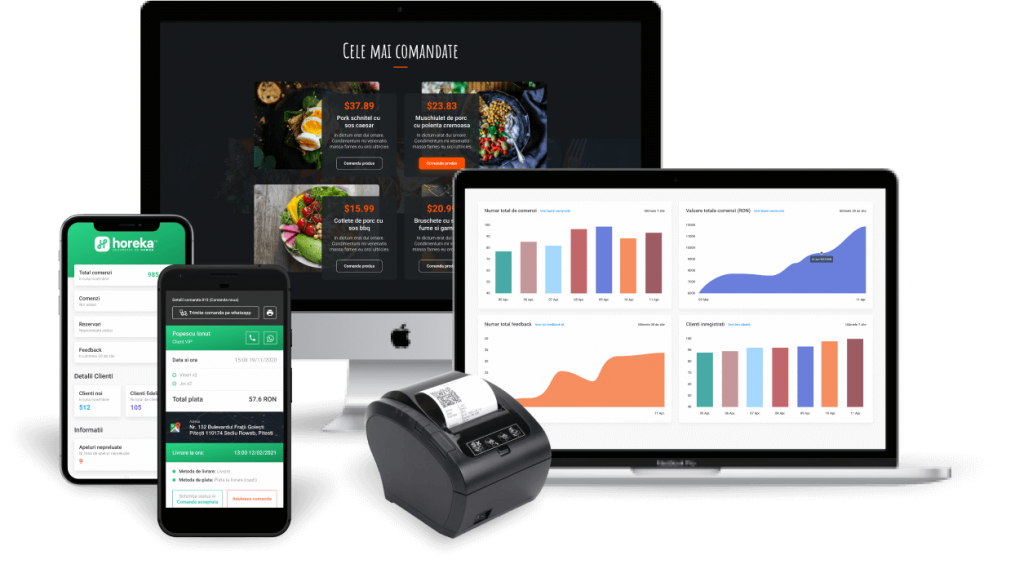 Searchency – smart search digital solution for optimizing conversions.
Searchency is a powerful and innovative tool increasing the conversion rate across platforms by improving the search experience.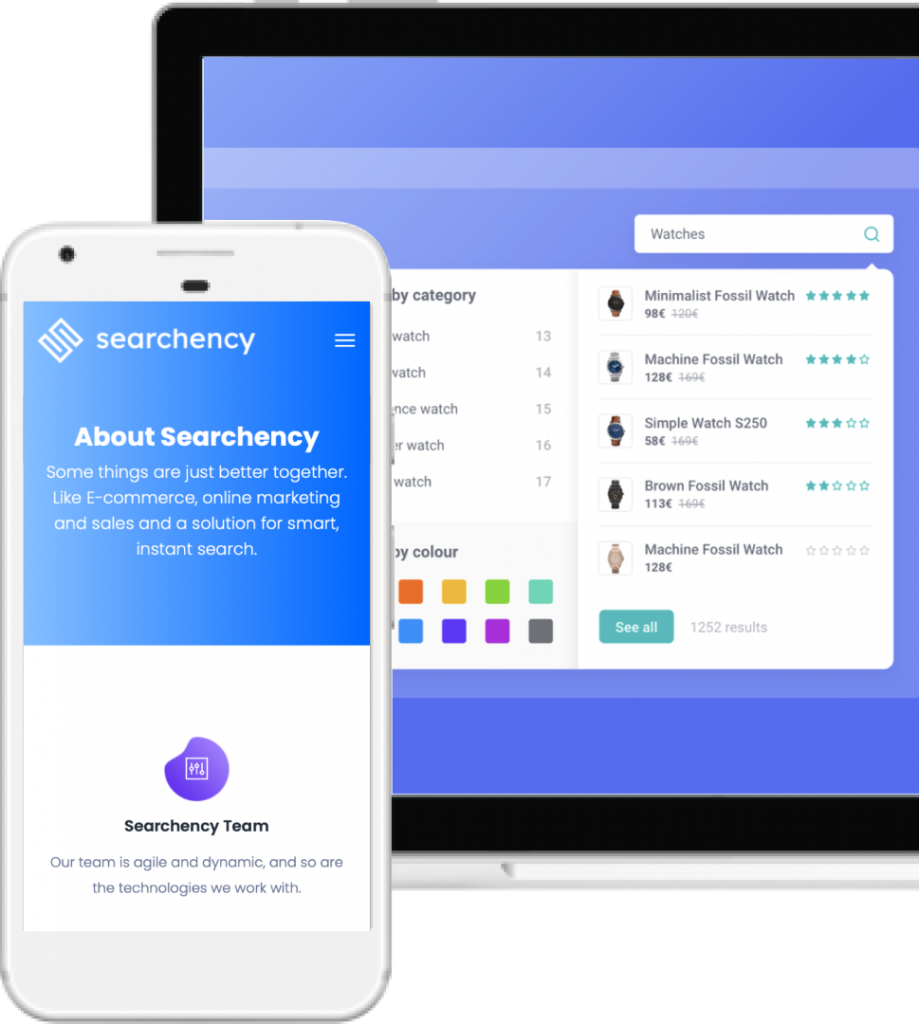 Custom projects developed by Roweb for portfolio clients
Spotlight.Vegas – Bespoken Booking System
Custom eCommerce & booking system development for fast access to the top shows and events in Las Vegas (Spotlight).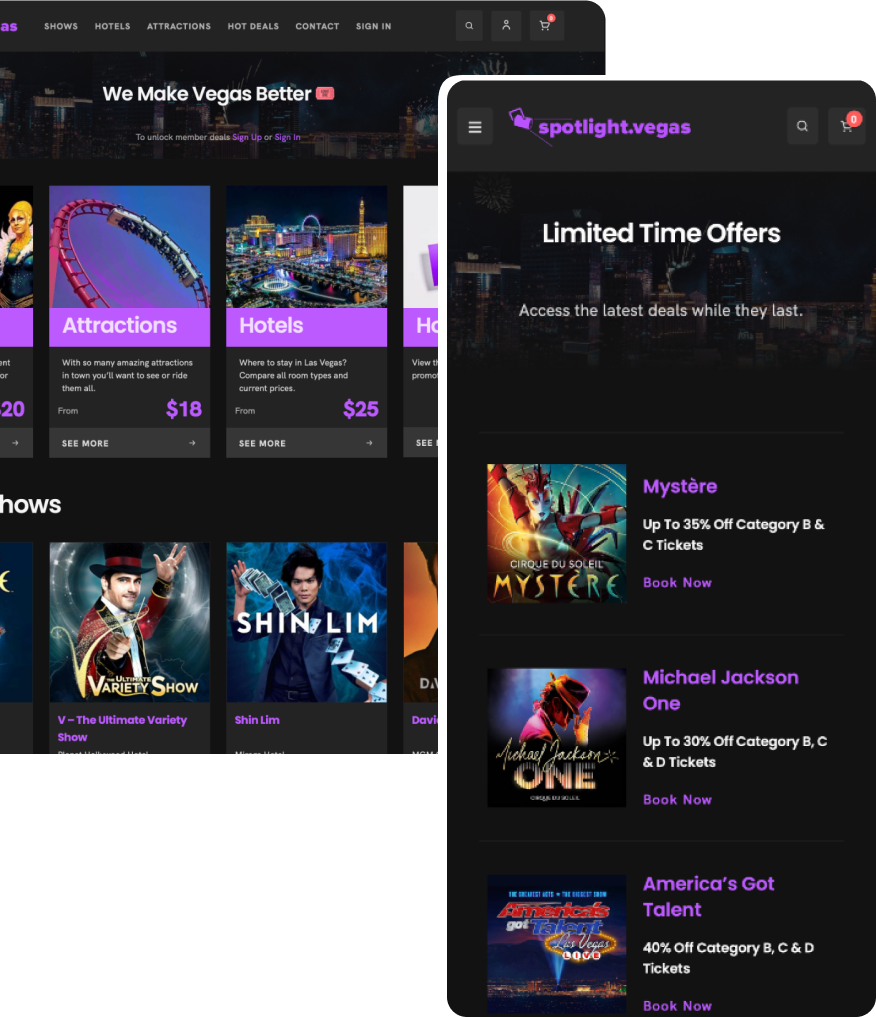 BoutiqueHomes – Niche audience based travel portal
Developing an easily manageable bespoke online portal, able to respond to the specific needs of BoutiqueHomes niche audience.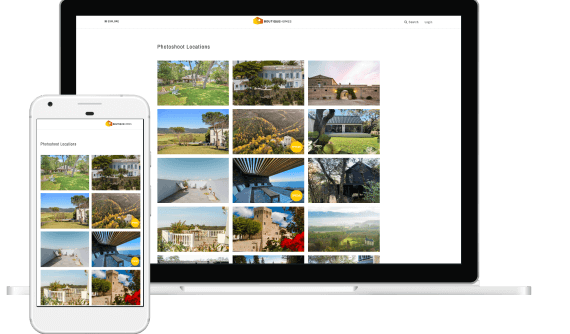 Bookcity – Custom-made bookstore for easy manageable sales process
Dynamic, feature-rich eCommerce store (developed with Magento 2) able to attract, engage and re-engage customers on the platform and beyond.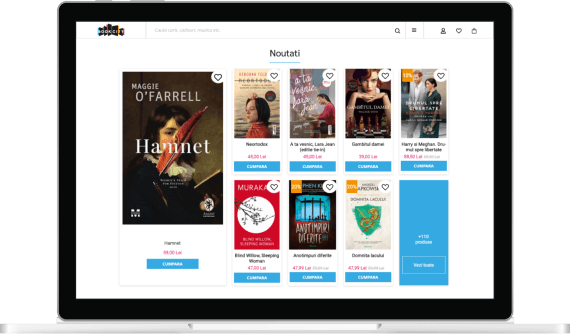 O-Mac – website optimization & migration (Magento 2)
Website migration to Magento 2 and high-level optimizations for providing a complete brand-centric experience.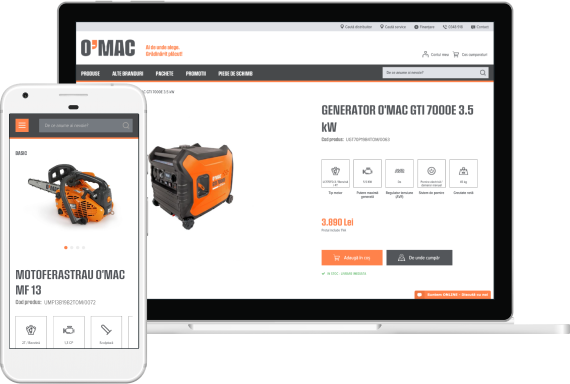 Club Hush – All-in-one sales-driven solution for restaurant
Club Hush is a restaurant from Pitesti that enjoys popularity due to its quality services, delicious food and hospitality. It decided to adopt the complete Horeka solution – a smart decision that increased its online sales.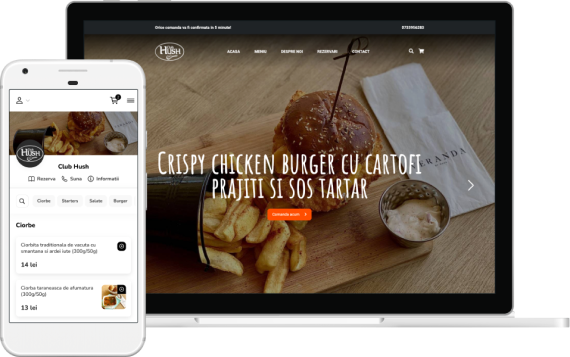 Verdn Platform – a complete travel portal for agencies
A platform that makes it much easier for travel agencies to get closer to their tourists.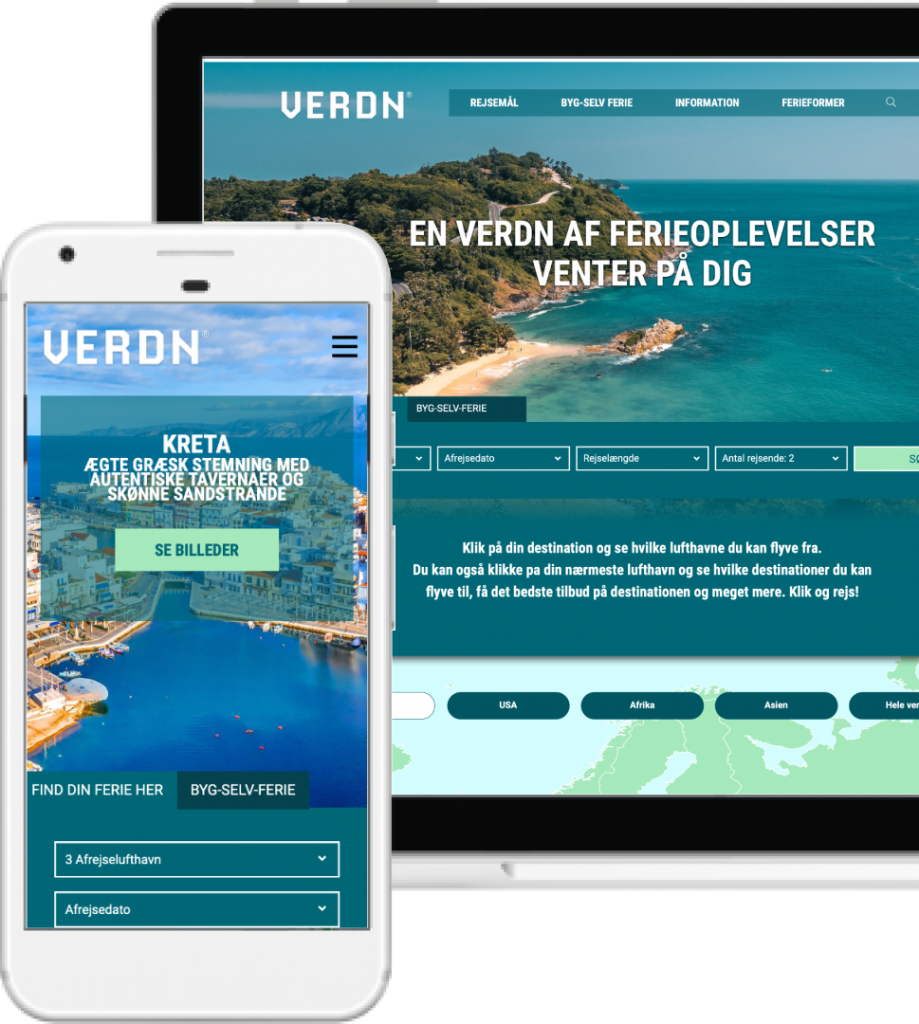 Some key figures of our eCommerce team
For the development of eCommerce projects, we use modern technologies such as Magento 2 and WooCommerce. These help us integrate functionalities that improve customers' buying experience, regardless of their industry.
Our eCommerce team has 15 dedicated developers and is in continuous development.
Most developers are seniors with relevant experience in the field. Thanks to this, we can develop an online store in just 14 days.
The client portfolio includes 100+ projects (national and international). It refers to businesses that come from retail, publishing & bookstores, jewelry & luxury items, HoReCa, insurance, Banking, travel agencies, real estate agencies etc.