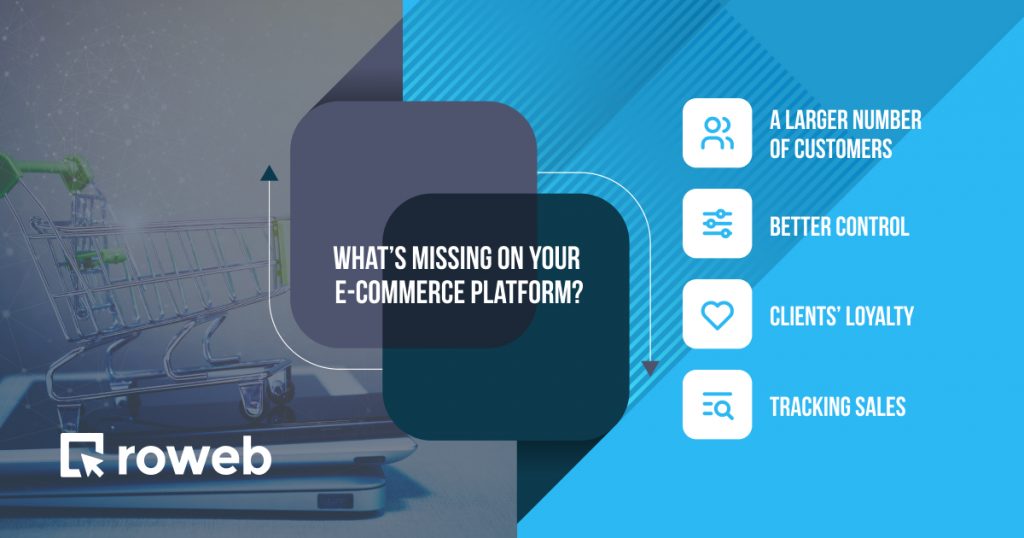 Interest in e-Commerce platforms has grown even more with the pandemic caused by CoVID-19 and the tendency to carry out as many usual activities as possible online.
However, more and more people have discovered that a performant e-Commerce platform offers you the possibility to sell online and gives you a lot of valuable functions and marketing tools through which you can grow your business.
Thus, this small guide is aimed at two types of readers: those who do not have an e-Commerce platform but who are interested in developing such a solution, and those who already have an e-Commerce platform and want to offer a superior experience to their customers, keeping the solution modern and up to date.
But before we discuss the features that an e-Commerce solution needs, we need to highlight some of its advantages.
The main benefits of a well-developed e-Commerce platform:
More customers are satisfied with their online shopping experience;
You get higher chances of customer loyalty;
You have better control over the sales and promotion process of the e-Commerce platform;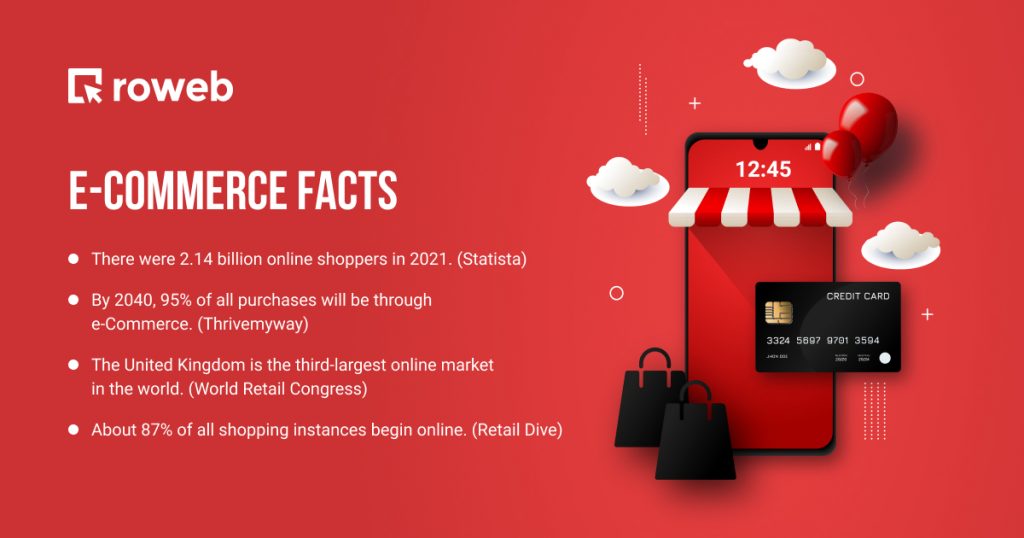 For those who don't have an e-Commerce platform
If you don't have an e-Commerce platform yet, but you want to build one, here are some aspects to consider before hiring a team of professionals:
Your business goals. The main focus should be both on short and long-term goals. Depending on your expansion objectives, you can decide which are the main features of your platform. Thus, if you don't know where to start, you can think about your perspective on the future: how much you want to grow your online store and increase the number of products you sell.
The niche in which you operate and the customers you have. Before developing an e-Commerce platform, you should know your buyer persona. Whom are you addressing? What do they need? What shopping experience are you waiting for? – These are just some of the questions that will help you make the right choice.
The type of products you sell and the estimated volume of monthly sales. There are simple products and products that need customization. For example, the client can choose essential details about a product such as color, size, weight, model etc.
Audience and marketing tools that you intend to use. Many e-Commerce platforms' features depend on the promotion you plan to do and are related to the database integrated into that platform.
The time you are willing to wait until the implementation of the platform. The more complex a platform is and the more features it has, the more time it takes to implement.
Of course, the project development time depends on the availability and experience of software developers that you choose.
The list of integrations that you will need. Some good examples are courier services, billing solutions, and online payment processors.
Taking into account the aspects listed above, there are two types of e-Commerce platforms that our company uses and recommends. Below we will highlight some of their benefits.
Magento 2
Magento 2 is an online shopping platform based on open source technology. It is also a content management platform for your online store that allows users to control the website's settings, the plugins, the display, and the functionalities.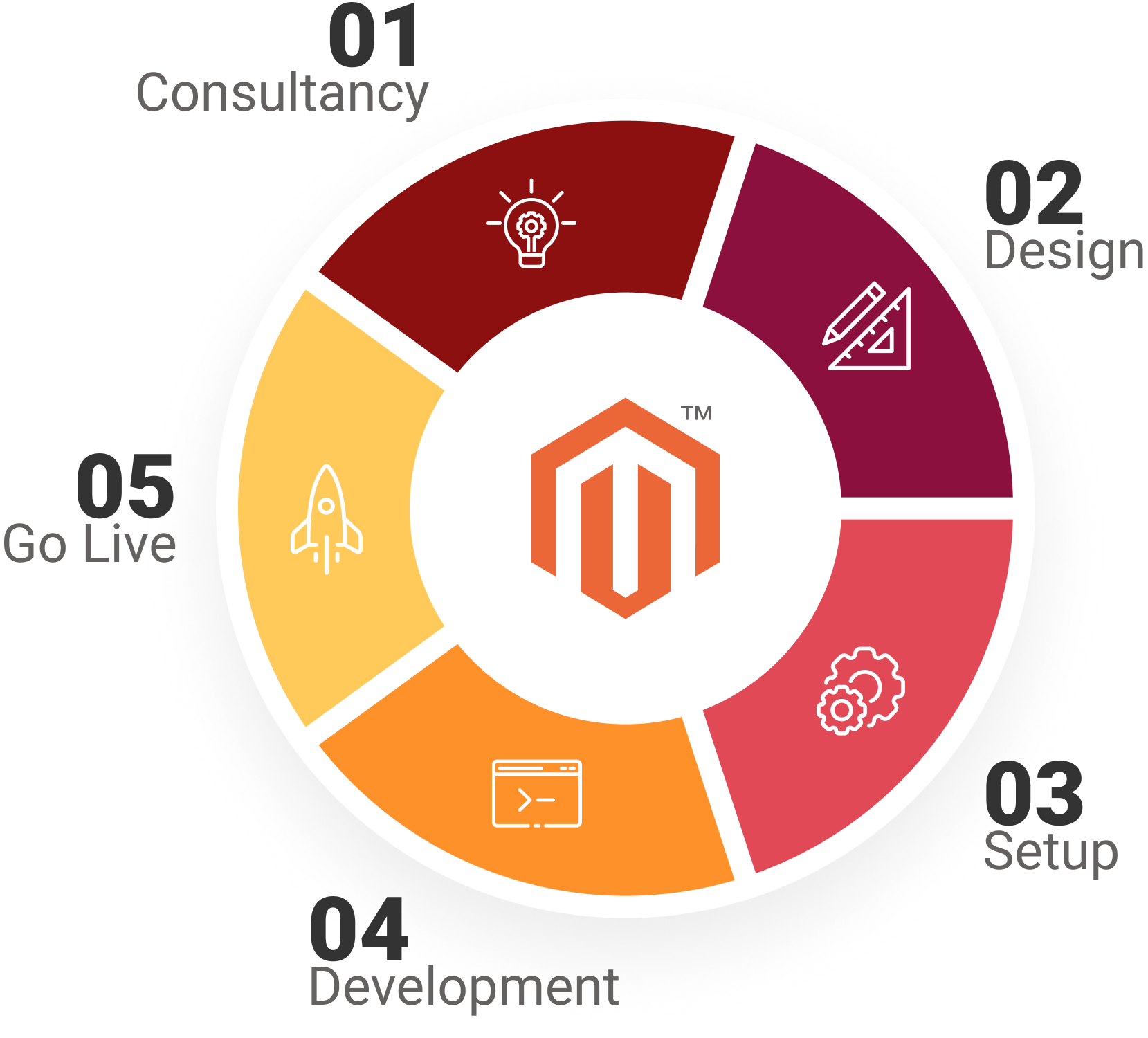 Using Magento to create an online store has the following benefits:
SEO administration for better indexing in search engines;
unlimited products stock;
personalization of the shopping cart;
protection from hackers attacks;
flexible coupons and price systems;
intuitive reporting and analysis system;
administration of the product catalog;
mobile optimization;
tracking orders;
product search;
image zoom;
multiple languages ​​and currency types.
WooCommerce
Woocommerce is a highly flexible eCommerce plugin for WordPress. It gives users complete control of the store, from design and stock taxes to customer accounts.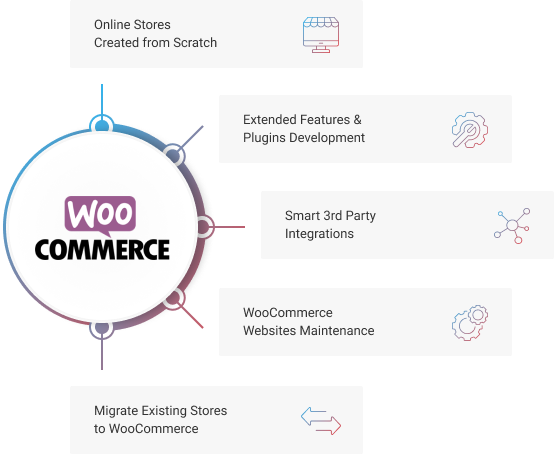 The main advantages of using WooCommerce to create an online shop:
unlimited products stock;
inventory regarding the situation of the products;
order reports and data;
redirecting the customer to the shopping cart;
customizable checkout process;
geolocation and personalized taxes;
variety of useful extensions that can be added.
For those who already have an e-Commerce platform but who want to increase the size of their business by offering more complex sales solutions
If you already have an online e-Commerce platform, here are some things you need to ensure you don't miss.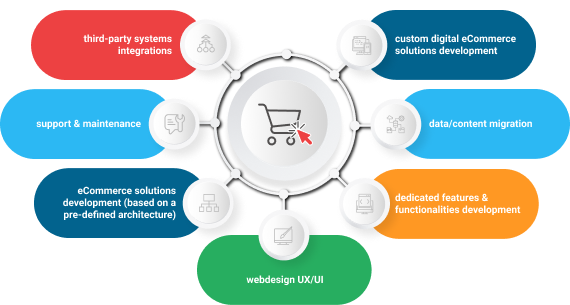 Customized features
We know that predefined e-Commerce platforms allow easy and fast administration based on "drag and drop" features. But as a business grows and develops, so will the needs – both yours, as the business administrator, and your clients.
Thus, the best recommendation remains the customized e-Commerce platforms, developed with the help of a dedicated team of software developers.
Also, custom e-Commerce platforms are often connected with a CRM that allows proper management of resources and sales processes.
However, it would be best to remember that no matter how complex your business needs may appear, you can find the solution you need with the right team of experts.
Customers' needs
The client's needs are a particular chapter of the development process of an e-Commerce platform and, at the same time, the aspect that underlies the entire project.
You are not building an e-Commerce platform just the way you like it, but how the customer needs it.
However, among the most common features related to the expectations and needs of a client are the following:
Possibility to track a history of previous orders;
Option to save their favorite products in a dedicated section;
Relevant product details and information;
Terms and conditions of purchase and return;
Ability to quickly find the products you need.
Payment methods
It is one of the most critical issues regarding e-Commerce platforms. And that's because it has to be done securely, and it has to offer customers the ability to pay quickly using several electronic methods.
When it comes to this aspect, customers want to have multiple options for paying for products: from payment with all types of cards and bank transfers to the possibility of opting for cash on delivery.
Data security
Data security (GDPR) is another important issue that should not be overlooked in the case of business platform owners, mainly since it includes sensitive data such as card details, product delivery address, full client's name etc. And if there is a data leak, the online store owner is the one who will be held accountable.
Workflow automation
The purpose of such a platform is to help you save time. However, you can do that through an organized workflow. All processes need to be connected, starting with updating product stocks and ending with marketing strategies.
And because sales are not just about adding products to the cart, you need to consider issues such as the ability to track the package, invoices, the ability to return the goods, and more.
The more you automate these processes, the more future-proof your e-Commerce platform will be.
Advanced product filtering
The experience of browsing an e-Commerce platform is essential for customers because it can lead to the use of the platform or abandonment of the process. However, among the most important details are the filters. Customers need filters to be able to find the products they need.
Some common product filtering examples:
Product filtering by price range – very practical for the sale of electronics and appliances, technology, and books;
Filtering the product by features, manufacturer, and price range – customers will be able to find the product ideally suited to their budget and with the desired features – a beneficial function for retailers of children's and baby clothes, jewelry, equipment, and electronics;
Product filtering by platform history – from latest to oldest and vice versa.
Communication modules
More and more modern e-Commerce platforms focus on direct communication with customers. Thus, they have integrated chat modules that allow visitors to ask questions about orders, product availability, and more.
In addition to chat, there is the option of contact forms. These should be short and intuitive but at the same time allow the customer to provide all the information about his order.
Social networking APIs integration
It is not enough to have an online store if you do not promote it because you will not be able to reach customers. Thus, the connection should be easily made with all the Social Media Platforms where your customers spend time.
Also, e-Commerce platform owners should pay more attention to the data coming from Social Media Platforms. The journey of buyers in the digital environment is complex.
Sometimes, they can see the product on Social Media, check the specifications on the e-Commerce platform, and stop the buying process. So, if you want to convince them to buy, you need more: personalized offers, dedicated newsletters, retargeting campaigns etc.
Some examples of Roweb's portfolio of clients
Car financing and insurance: Porsche Finance Group is a Romanian company that offers car financing and insurance for Group brands such as Volkswagen, Audi, SEAT, Skoda, Porsche, and Das Weltauto.
Using technologies and integrations such as Magento 2, Knockout, LESS, Rest APIs, Google Maps APIs, and PayUnity, we offered our client a one-stop-shop solution for selling products (cars and accessories) and services (financing, insurance, maintenance).
What's so special about this e-Commerce solution? The approach – thanks to the implementation of a fast process, the precheck and the pre-approval of the financing package are also done online.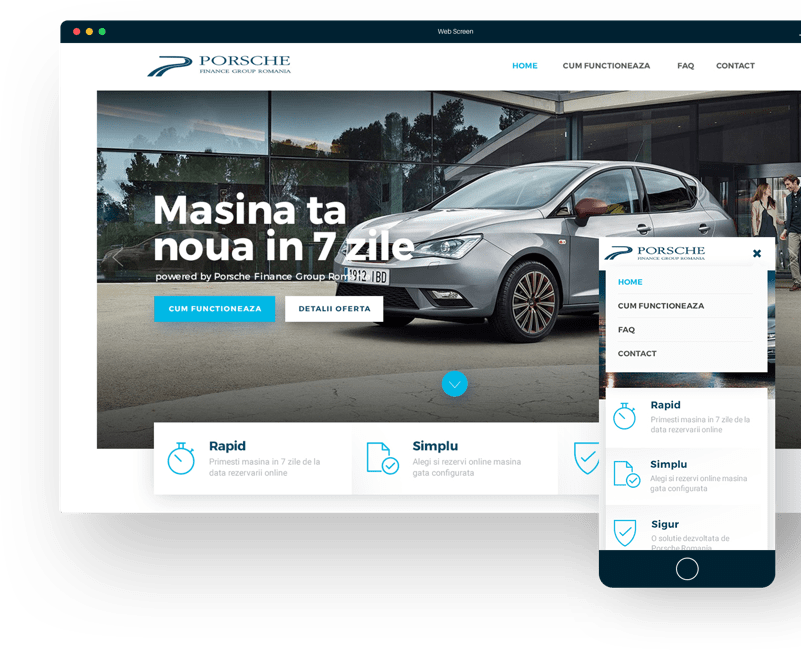 Luxury products: Teilor is the largest Romanian jewelry brand famous for its qualitative products, elegant stores, and good services. Our collaboration with Teilor involved upgrading from a limiting platform to Magento 2. In addition, it was a complete redesign of the website to offer customers a high-class experience.
The new Teilor platform includes smart functionalities such as multi-language setup, custom product catalogs, stylish design animations, SEO-friendly category pages, and a dedicated hosting solution. In addition, everything is synchronized with an ERP that offers Teilor's employees a better working experience.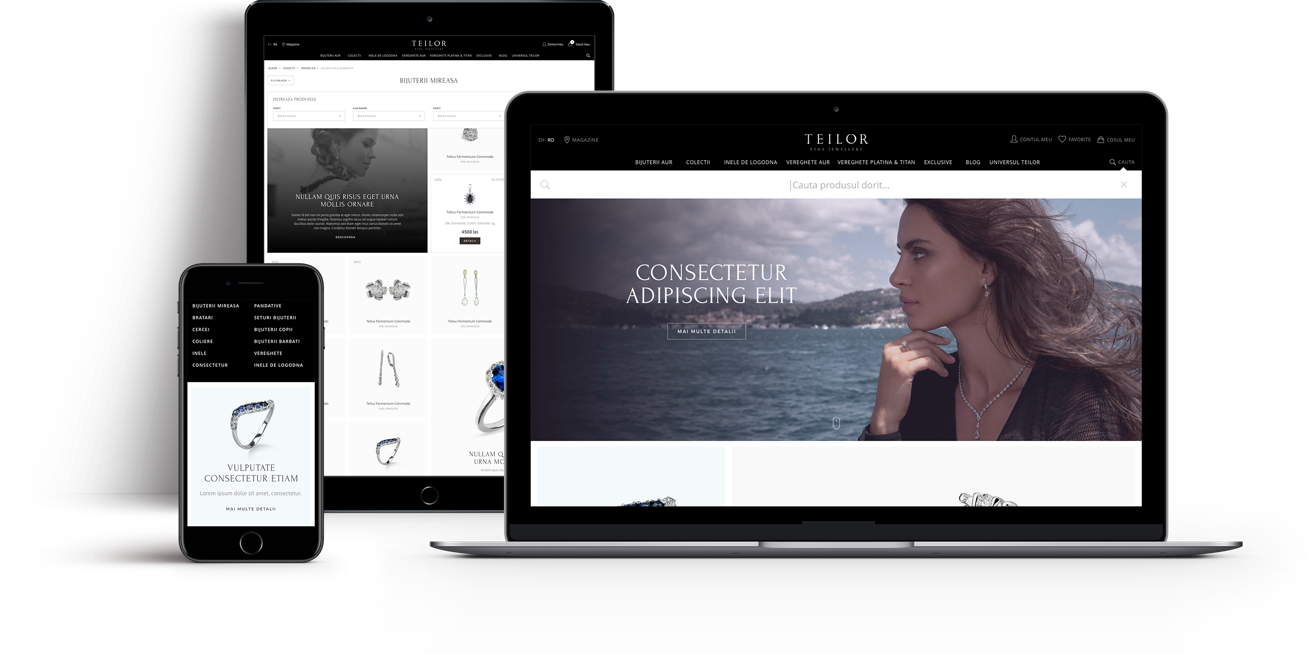 Digital bookstore: Bookcity is a famous bookstore chain with interesting business perspectives. The client was already familiar with Magento and wanted to migrate its Magento 1 platform to Magento 2.
Our primary purpose was to obtain a complete solution based on a sales-oriented online shop. Our idea was to match the client's design expectations with e-Commerce goals by adapting the project's existing modules to business needs and using 3rd-party tools and services.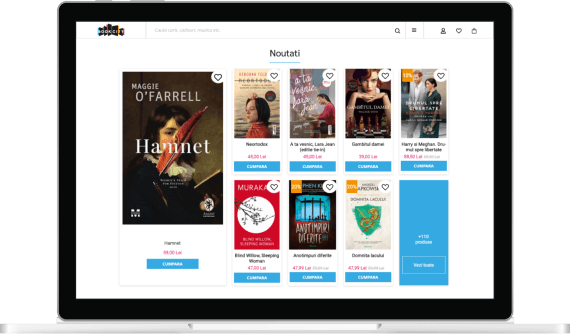 E-Commerce marketplace: Social platform with an open marketplace and own crypto-currency (B-coins). Given the constantly increasing mobile traffic, the client wanted a better performance on his platform. Therefore, we dealt with data migration and obtained a simplified user interface.
The platform included smart features like guided search based on autocomplete options and results listed by popularity, trends, or seller's trustworthiness. It also had real-time price conversion for easy product comparison.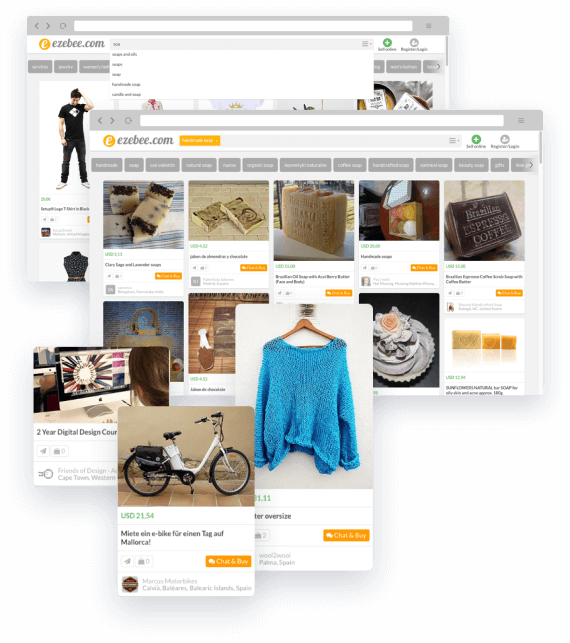 About the e-Commerce experience of the Roweb team
With over 18 years of experience in software development projects and based on our 130+ full-time developers (50%+ of them are seniors), we turn business ideas into functional, intuitive, and performant e-Commerce platforms and apps.
Roweb assigns a dedicated development team that helps clients have an outstanding online presence. Our e-Commerce services include software development, web design, maintenance, outdated website optimization, data and content migration, and integrations with 3rd-party systems.
To keep up with the e-Commerce trends in the industry, the Roweb team participates in events such as GPeC (e-Commerce and Digital Marketing Event with a tradition of over 17 years).
Do you also search for an e-Commerce solution? Or do you prefer offering your customer a better shopping experience?
Regardless of the answer, you should book a meeting with one of our e-Commerce consultants.