If anything, 2020 could be summarized by "adapt to new, now." Even though businesses throughout the world struggled, some managed to adapt better than others. At the same time, some industries were affected more than others. Despite the difficult economic and health context, we kept developing. While we managed to finish the year with some excellent prospects for 2021, we also identified the means to help those who struggled in 2020.
Before starting the objectives, we believe that there are two positive aspects to take with us from the past year: unprecedented opportunities and valuable learnings with each crisis.
#1 We want to start by saying our success story relies solely on our team
Our biggest pride in these 17 years of Roweb is our amazing team. Our philosophy managed to keep our colleagues close and create strong teams. The past year was quite arduous, especially as we had to move our meetings from our office to Skype, in a matter of a few days. All our projects had to be done remotely, and that meant we needed to invest more in servers and helping each of our employees have the best possible work environment.
2020 showed us how strong we are as a team. We managed to deliver enterprise projects, and bring forth an alternative to 3rd party food delivery apps, in order to help restaurants.
Looking back, when we decided to keep our employees close and help them achieve their own objectives, and looking forward to offering them the best opportunities, we believe we made the right choice.
During the years, Roweb managed to develop across the country, and now we are proud to have offices in 4 cities (Pitesti, Bucharest, Craiova, Rm. Valcea). In 2021 we will continue to develop our business, hopefully from our new headquarter in Pitesti.
#2 Investing in our restaurants solution
Here at Roweb we developed an incredible array of solutions. From enterprise to mobile, we developed IT solutions for more than 10 industries and we are very proud of our portfolio.
Last year in April we discovered that plenty of restaurants needed help in order to promote their services, and 3rd party apps were (and still are) too expensive, some charging up to 35% per order.
Our solution for restaurants which we launched this year include: delivery, online sales/reservations/orders & marketing. Taking into account our experience with mobile development, e-commerce and web portals we had our solution ready to take on the whole activities of a restaurant. The results we had so far look more than promising.
Each restaurant that installed this solution had seen immediate growth. We even had restaurants with 317% growth in sales, in just one month. Read more about our results in this article.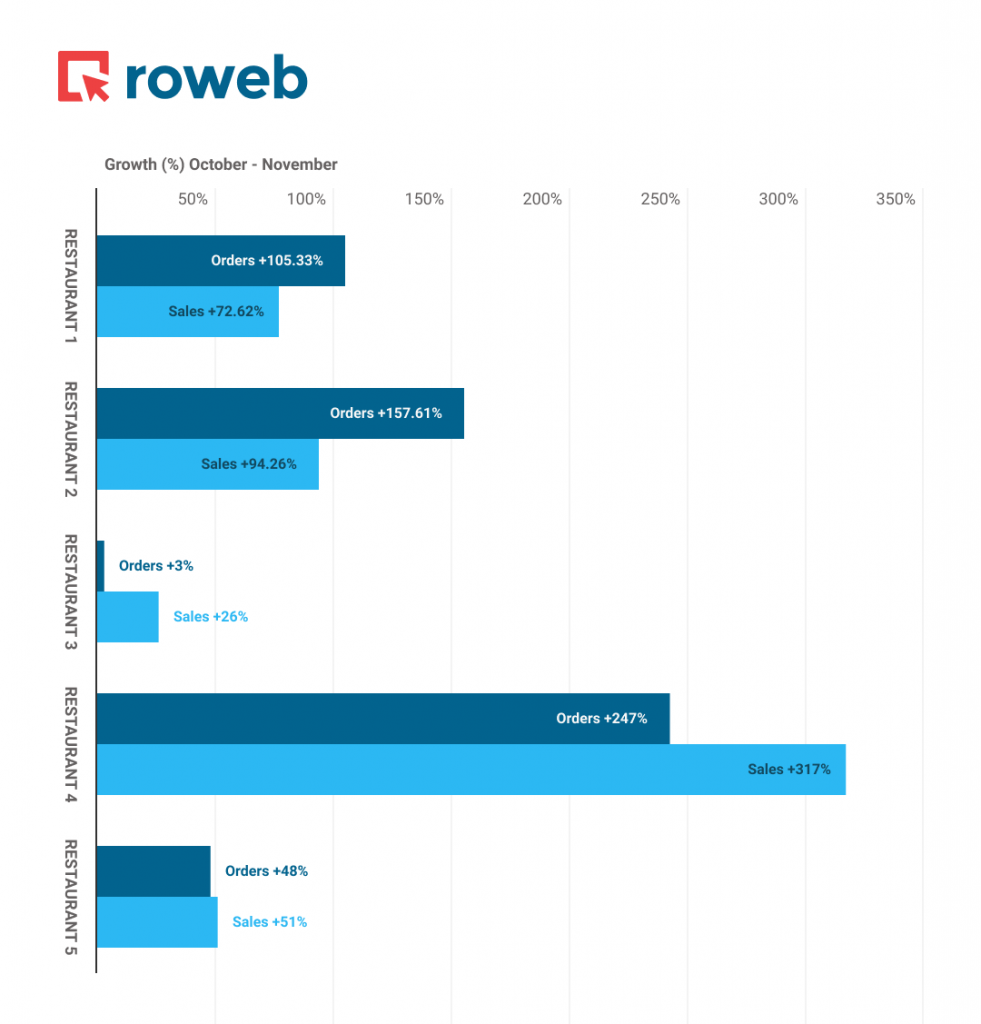 In this year we want to further develop the services we provide for this solution, by adding marketing services so that every restaurant can benefit from more sales and revenue. We also developed our restaurant solution to be up and running in just 3 days. If you want to see what other types of solutions you can adopt fast, check this article here.
#3 Be adaptable
Innovation is born out of necessity or in front of adversity. From developing new products to problem-solving delivery methods, 2020 has forced us to become innovative. If 2020 has taught us anything, you need to stay adaptable to make your business thrive.
The truth is, things haven't fully moved back to normal; in many ways, the threat of a pandemic and a weakened economy is still alive. And even after the pandemic is over, who says that there won't be a cultural shift so powerful it will change the way we do business, work or attend conferences. While for now all we might want is to go back to normal, we might see a different "normal".
Being adaptable is more than an objective. Is also a mindset we will invest this year, by developing more solutions that can rely on the same architecture, in order to improve productivity and efficiency. Seizing a market opportunity at the right time might be a challenge in a world that moves this fast. Thus we want to help our clients be more efficient through solutions that can be customized fast, in order to support even the highest of demands.
#4 Implement client feedback
2020 brought us international recognition. We received some amazing awards last year like being appointed by Clutch as "Top Software Development Partner" in Bucharest, Romania, or "Top Development Partner on the 2020 Clutch 1000", representing only the top 1% of companies listed on the site.
These awards are the results of years of hard work and, more importantly, strong relationships with our clients.
We always strive to become better. We are passionate about what we do and our company nurtures innovation and thinking smart. At the same time, we value our clients and we see them as partners. This mindset created business relations that lasted since 2004, and that is something we are even more proud than the awards we received. Because we understand our clients business needs, whenever we build a solution we develop it having in mind our customers future scaling.
In order to do that we embraced evolution and with the valuable insights we gathered from the business needs of our clients, we managed to create a mindset prone to constantly getting better.
Besides our own desire to be better, our clients feedback is also incredibly important to us. As the years passed our positive feedback just kept growing and we reached a point where from the client side our company is "an exceptionally talented team".
We never wanted to just deliver IT solutions, but also commitment, respect and trust and in order to do that we must always stay true to our course of continuous improvement.
#5 Increase our Roweb family
Last year we opened a new office in Rm. Valcea. Even though it is a small team for now, we are committed to have it grow steadily throughout 2021, with people located in Rm. Valcea and its surroundings.
We believe we can find and nurture the talent, and have amazing new colleagues, thus making Rm. Valcea office one we will be proud of.
#6 Hybrid workplace
This year proved that if anything, our colleagues can perform incredibly well working remote. So for the next year we plan to create a hybrid workplace, in order to increase productivity and efficiency.
We aim to provide an optimal balance of being productive, while reducing stress and commuting.
The pandemic made us re-imagine the workplace, and brought forward opportunities to optimize it. In order for a hybrid workplace to be successful, we are already working on a plan and how to unfold it. While it may seem like an answer to a temporary problem, we believe is a real solution for how we will treat work. It's all about finding the means to structure and balance work, safety, communication and mental health.
Sooner or later the pandemic will end. When it does, we want life at Roweb to be a happier, healthier, and more productive place than before.