Before setting the goals for 2023, we take a short break and think about the year fast approaching its end.
And the first thought that crosses our mind is that in 2022 we managed to return closer to the activities before the pandemic. However, we cannot fail to note that considerable changes have occurred and that what we call "normality" today is a slightly modified concept.
However, if we were to describe in a few words what it meant for Roweb 2022, we can say: growth, involvement in the community, and updating to the new trends on the market.
In 2022, we celebrated 18 years since the brand has been on the market. It was the year of "coming of age," equivalent to the brand's maturation period.
The end of the year is the perfect opportunity to do a quick review of the most critical moments that have turned not only into memories but also into best practices that we want to include in our brand philosophy.
Main Highlights:
Out of passion for programming, since 2004, we've been telling Roweb's story
In continuous transformation, the passion for programming and the desire to grow and find its place in a dynamic market determined the Roweb brand to have a rapid ascent.
Thus, in 2004, Viorel Costea, a former IT teacher (now the CEO of the company), managed to gather around him former students (Mirel Ionescu, Gabriel Rosu & Razvan Veliscu), laying the foundations of a business that became more than just an IT company. As a result, Roweb is a partner in the digital transformation of many companies with an international profile.
The team was joined by Florian Stanila (who became Partner in the meantime), who initially worked for 25 years in the army and brought to Roweb the discipline-specific to his previous work environment and the order in solving financial challenges.
Workplace: Back to the office & new spaces for working, socializing, and relaxing
The desire to communicate, socialize and meet face to face has made most of our colleagues switch from Work from Home to hybrid or office work. Moreover, in 2023, we estimate that over 75% of them will choose this way of organizing work.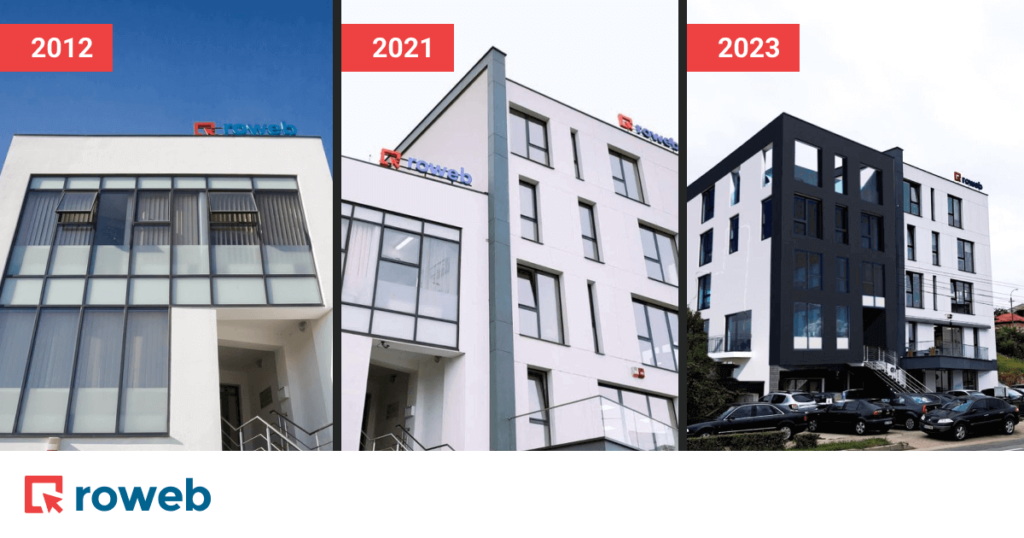 That is precisely why part of next year's strategy is to expand the headquarters in Pitesti by building two new floors (another 200 square meters).
Representing a mix between open space and well-defined spaces, these areas will be used for working with larger teams of programmers, relaxing, and socializing.
We've turned challenges into great opportunities, and projects into partnerships thanks to the people on our team
Roweb is a strong and mature brand thanks to the people, their involvement, and their loyalty. Thus, in 2022 we didn't just celebrate coming of age. Instead, we wanted to spotlight the people who have been with our company for more than 10 years and those who hold leadership positions in the technical and support departments.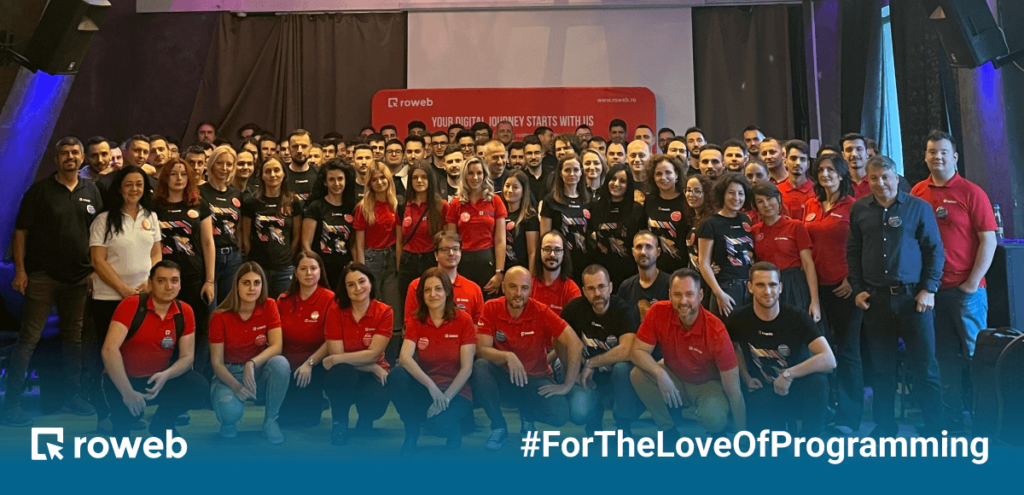 We also welcomed people who share the same values as us and who joined our company this year. Thus, this year, we are proud to announce that we have 150+ employees in our team.
Summer practice
In 2021, for safety reasons, we had to organize the summer practice online. Fortunately, in 2022, we had the opportunity to return to the "classic" format, face-to-face. Thus, the trainees get the chance to come to the offices in Craiova and Pitesti and interact with mentors and coordinators and see what it means precisely to work in an IT company.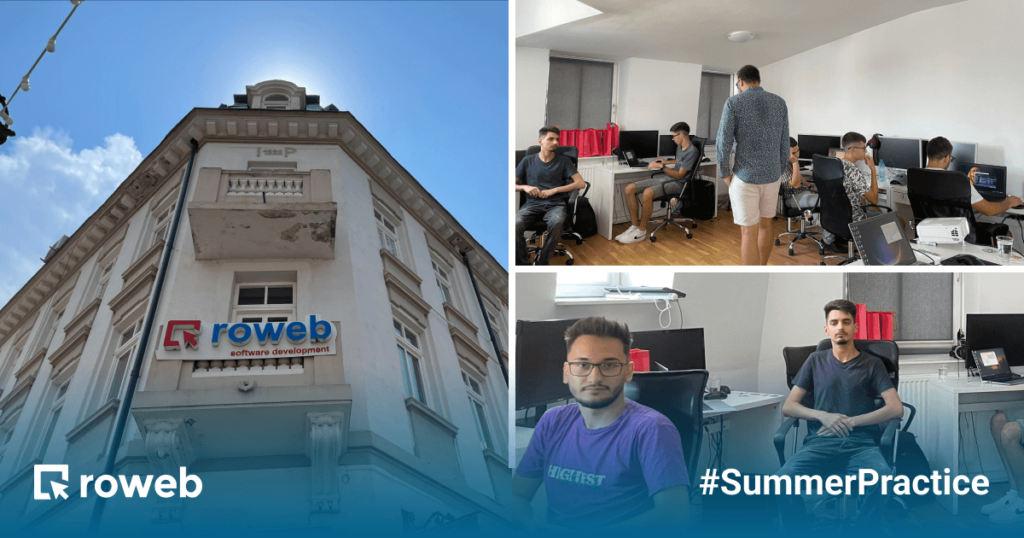 However, the news from 2022 continued. At the head office in Pitesti, we carried out the first edition of the Quality Assurance internship, the testing part representing an essential activity for our company.
"The summer practice was based on all the theoretical and practical support that a student may need to put the first bricks in his career as a junior QA tester. Thus, students had the opportunity to see how an actual application looks and how we work and report. In other words, what testing means as a process. We also taught them about Web Testing and Mobile Testing (Android, iOS)." said Madalina Ciomblea, QA Tech Lead.
Internship
The students who completed the summer practice moved on to the second stage: the paid internship. Thus, they were involved in real projects where they interacted with challenging tasks and became familiar with the Agile methodology.
After completing the internship, 80% of the graduates remained in our company as part-time or full-time employees.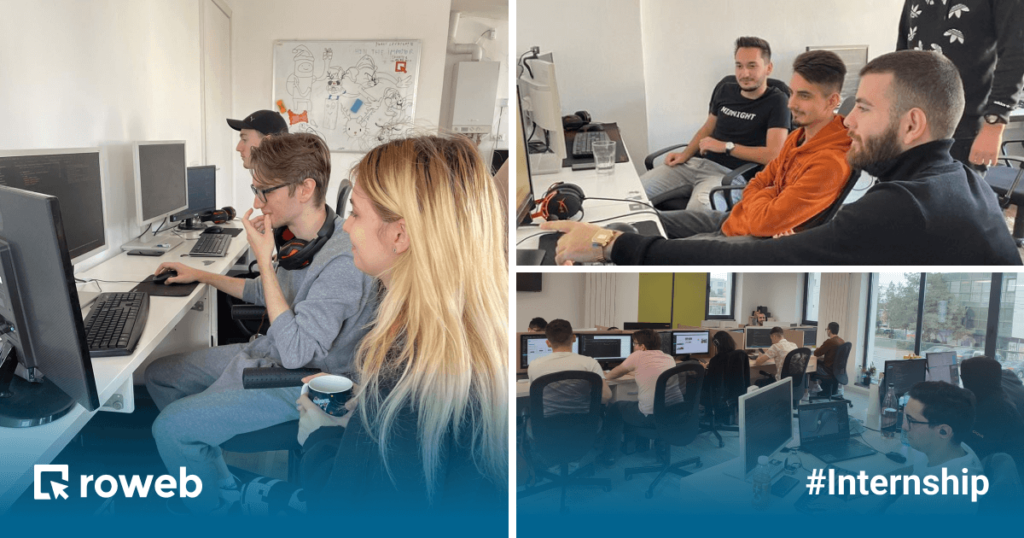 Increasing Roweb's portfolio in 2022
Roweb's portfolio has diversified with new international projects coming from clients concerned with digital transformation who are oriented towards developing businesses with potential. In addition, it is a project from the HR industry, a field in which our team has extensive experience.
At the moment, our dedicated teams are working on the development of functionalities. Moreover, next year, we plan to carry out a case study to show the impact of digitization on the business.
Tech & Business events
2022 was the year we resumed our presence at tech & business events. Thus, our business agenda included national events and high-level meetings with essential names in the industry, such as:
Participating in all these summits meant the perfect opportunity for us to meet and exchange impressions with entrepreneurs concerned with digital transformation, present our portfolio projects and find out the international trends in technology and digitization.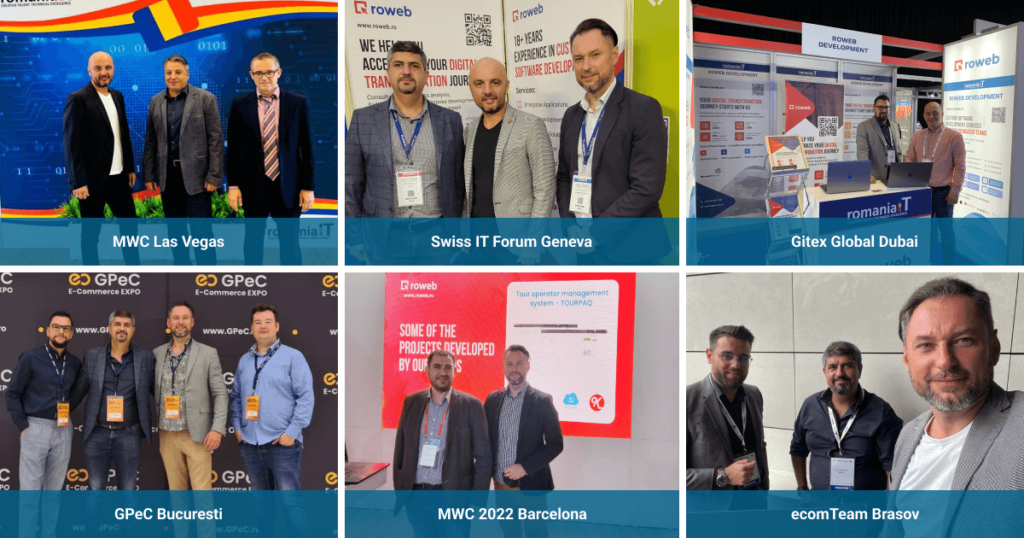 Career events
Beyond the tech, business, and e-commerce events, in 2022, we participated in two job fairs. One of them was dedicated to students from the technical faculties in Craiova (Jobs4IT) and represented an event with tradition for our company.
The second was dedicated to students and graduates from Pitesti eager to pursue a career in Multimedia.
And because we support education, and most of our colleagues come from Pitesti, Craiova, and Bucharest faculties, we support the educational environment through initiatives such as Open Doors or Job Shadows Days. These allowed pupils and students to interact with our software team's development. For many of them, these events represent a first connection with the IT world.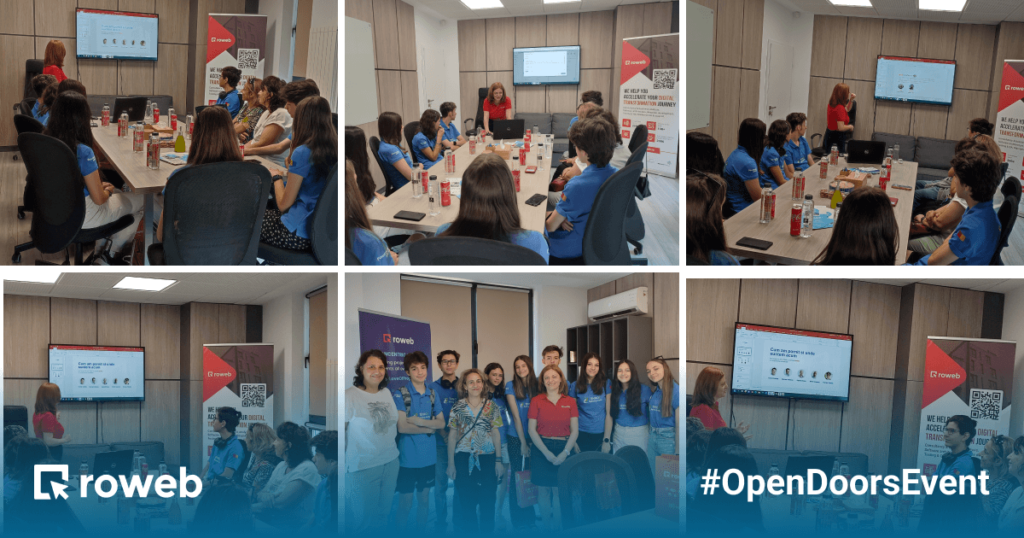 A new approach in the market – SMarketing + increasing the sales team
Considering the objectives of expanding the client portfolio and exploring potential markets, such as the UK, we have adopted a new approach reflected through marketing and sales actions.
Thus, starting from the SMarketing (Sales + Marketing) concept, we increased the Sales team and concentrated our efforts to make ourselves better noticed in the international market, where more than 90% of our projects in our portfolio come from.
Regarding the future, more and more companies will understand that it is not enough to move their activity to the digital environment. Still, they need custom solutions that meet specific needs, and that can be used in the long term.
Thus, our Marketing & Sales teams will focus on these clients and guide them to achieve the desired results.
CSR actions
The desire to support the local community has materialized in several CSR-type initiatives, addressed, in particular, to young tech enthusiasts.
Thus, we supported the TehnoZ Lighting Bolts robotics team at the World Robotics Championship in Rio de Janeiro 2022, for which we also organized a visit to our company's headquarters in Pitesti.
We also made a Computer Science collection book of Informatics for students.
Next, we plan to modernize an IT laboratory at the University of Pitesti.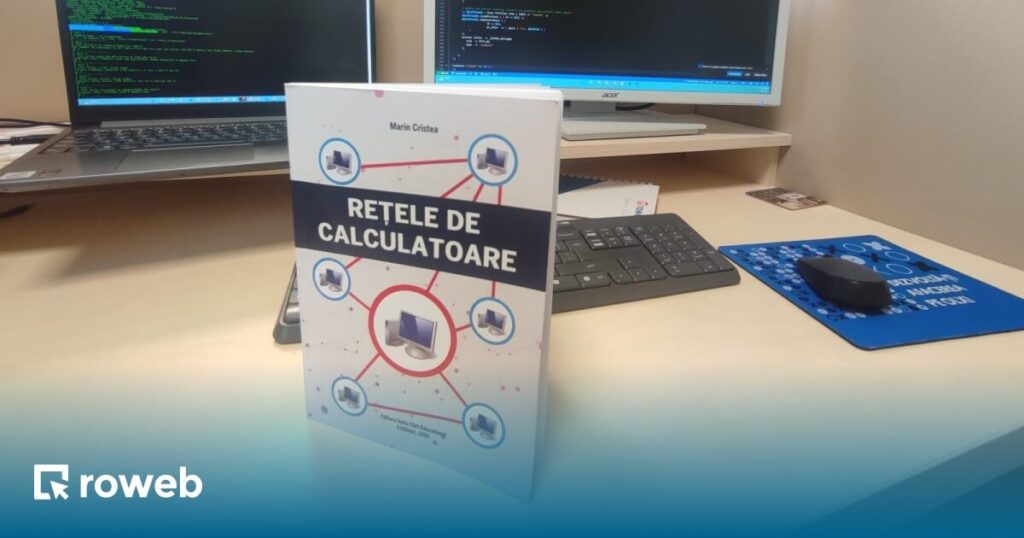 Quality & security standards alignment
Along with developing the projects in the portfolio, we increased the security standards to protect the data we use. We also take care of the internal data of our employees and partners, respecting all the regulations in force.
The alignment with quality standards was achieved by obtaining the ISO 9001 certificate, which attests to a series of rules that we strictly follow and gives our clients confidence in our services.
Digital platforms & apps by Roweb
Horeka by Roweb
2022 was the year in which we also focused on the development of internal projects. Thus, we have increased the Horeka end-to-end sales and delivery solution dedicated to the owners of restaurants, hotels, guesthouses, and catering companies.
In addition, we have added new functionalities and prepared packages to help users offer their clients efficient and fast solutions.
At the moment, Horeka by Roweb is used in over 30 cities in Romania. It has registered orders of approximately 14 million lei in the first year since its launch.
In 2023, Horeka aims to double the number of clients in its portfolio and launch the "Virtual Marketing Assistant" module.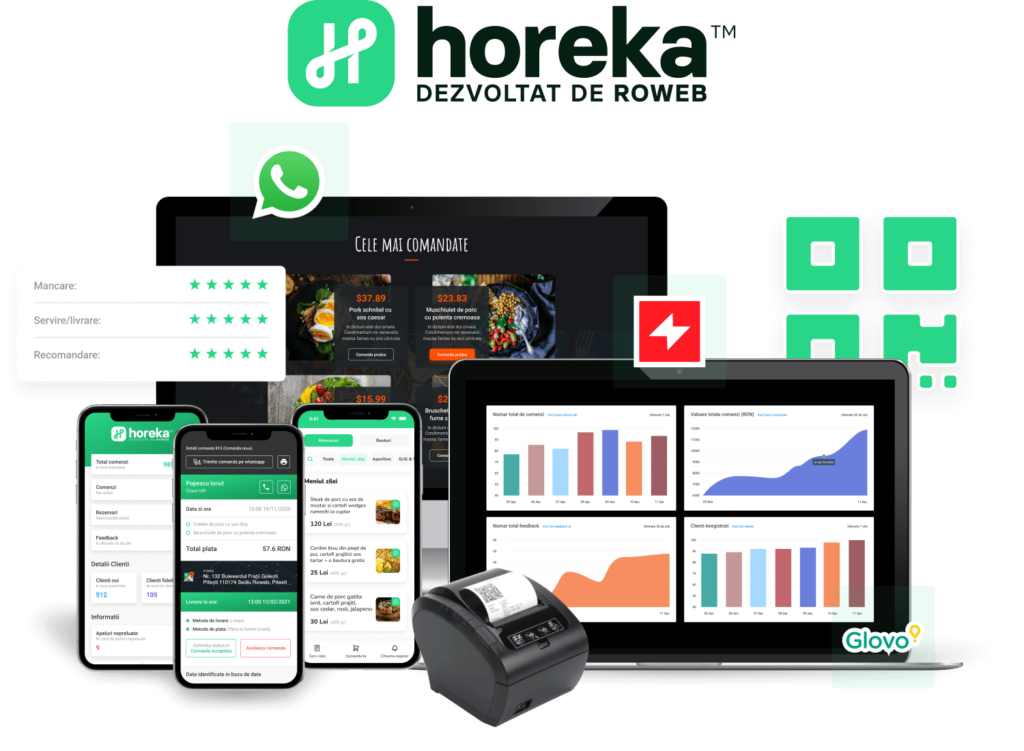 Searchency – product relaunch
And because we don't focus only on software development but on complete services, we relaunched the Searchency project – an advanced search solution for stores and ecommerce platforms. It is based on an intelligent search system, which includes the option of searching based on synonyms.
Searchency has already been implemented in businesses from the Roweb portfolio, and they have recorded a 43% increase in conversion rate.
Back to team events
The relaxation of the measures against CoVID-19 allowed the resumption of some of the most anticipated events: team building, the Christmas party, and the evenings of board games after work.
This year's team building was organized in a mountain setting, where the late autumn air helped us relax and get to know each other outside the office.
Then a new meeting occasion followed: the Christmas party, where we moved the meetings from the office to a festive decor with lights, seasonal aromas, and good music.
Moreover, board game evenings are like a well-deserved relaxation break for colleagues who have had a full week.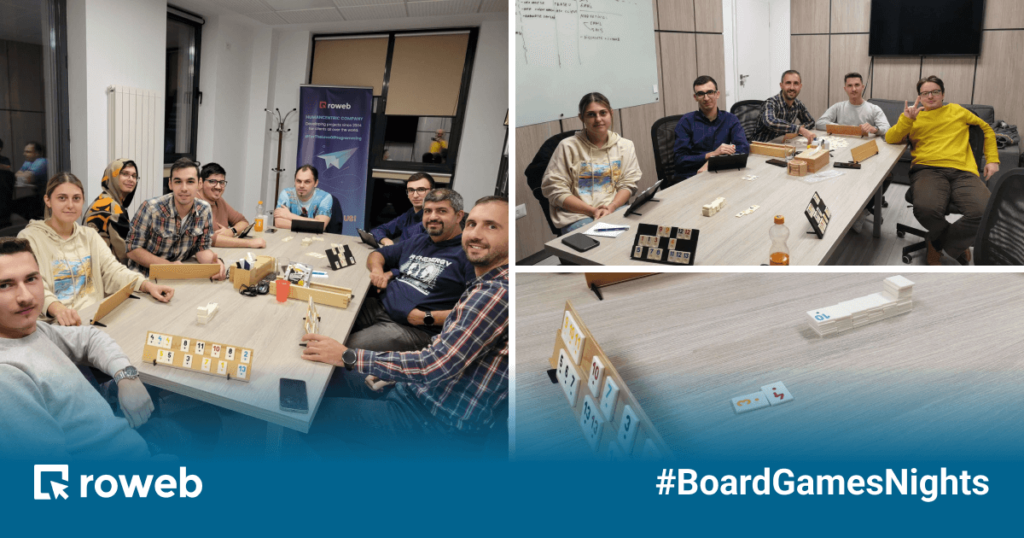 What's next?
These are some of the achievements of our team, which we briefly reviewed in this article. In addition, Roweb's plans for the next period are announced to be at least as complex as those of 2022. And to stay up to date with the news, we invite you to continue following our posts on Social Media and the blog.
"In less than three years, we expect an effective doubling of the business due to the objectives we have set and which are already starting to materialize.
So, in 5 years, Roweb will have at least 300 employees, a doubled international portfolio, and a much stronger presence on the Romanian market where businesses have begun to invest more and more in digital transformation."

Thus, we want to continue to grow the Roweb team and develop the community of those whose activity is under the #ForTheLoveOfProgramming umbrella.