The need to start new projects involving powerful dev support usually begins with the same classic question: Which is more effective – hiring new people in your team or counting on software development outsourcing?
Extending your existing team by new hirings is costly (compared with dedicated dev team). Taxes, salaries, defocusing internal employees for involving them in the recruiting process, etc. – all these are your company's responsibilities.
Also risky. (what if the new employees become demotivated after a period of involvement in the same project and decide to leave? what if a key-employee gets sick? etc.)
And it takes time to acclimate new people to your company's work environments, while project requirements seem to grow from one week to another. (As research showed – source: sloanreview.mit.edu – it will take 8 to 26 weeks for an employee to achieve full productivity)
So, yes: working with dedicated development teams is an efficient solution. However, of course, under certain conditions, match the right external team with the project's needs.
And (based on what our clients said for selecting the right software development provider) it's wise to keep your attention focused on 3 main aspects:
the provider has enough experience on the market;
it can provide a full-skilled team (for all roles);
the dedicated team can develop projects based on modern and powerful technologies.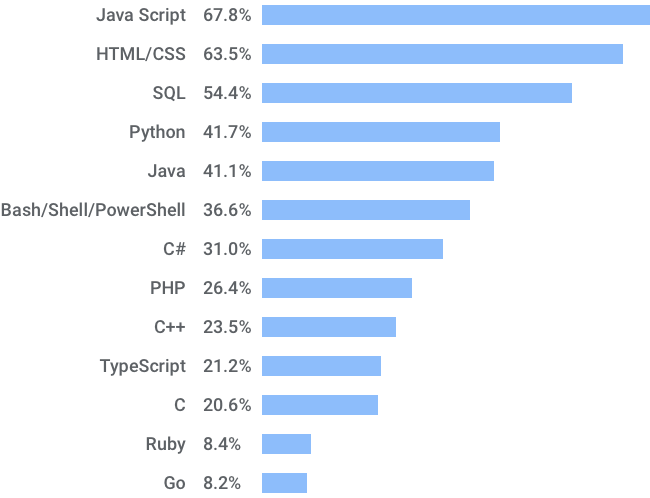 (SOURCE: Stackoverflow insight data Survey on 80K respondents)
Take a look at the following 3 examples (3 different types of projects) that worked better with dedicated dev teams (software development outsourcing).
#1 Developing a SaaS with a fixed deadline for automating processes & managing apps – (Pearn Kandola, UK)
Pearn Kandola is an organization that offers support to different companies from the people management & employees acclimatization perspectives. Our client's core mission is to help their client-companies to provide a modern and fair workplace by promoting Diversity & Inclusion.
In its path to accomplish its mission and based on its experts in psychology and leadership, Pearn Kandola provides support through 2 main channels:
services (audits, coaching, training, courses, etc.);
digital solutions (research & analytic tools).
For optimizing the interaction with their products (e.g., support materials, apps, etc), and increase time speed for informational transfer and processing, Pearn Kandola owners decided to develop an all-in-one platform.
The new platform should function as a hub where different types of users (consultants, managers, employees, etc.) can access and manage informational assets.
The project was developed in 3 phases:
Phase #0: The MVP – Initially, we've designed from scratch an MVP based on the client's requests and on the following 4 objectives;
Phase #1: Developing Pearn Kandola Digital platform – Based on the MVP we've delivered, the client decided to turn it into a real digital solution, more complex, with enhanced features and higher usability;
Phase #2: Extending platform development through new features and apps – The delivered platform's proven efficiency made room for new business development directions: designing and implementing brand new apps that can respond to PK's clients' needs at a higher level.
PROJECT OVERVIEW
TECHNOLOGIES: PHP, MySQL, React, Lumen, Nginx, Docker
PROJECT TEAM:



Key-benefits for companies: Delivering only relevant and useful results, easy to manage, and interpret.
Key-benefits for employees: Accessing fast results in a complete but understandable form.
Key-benefit for consultants: Automating the entire process: more focus on providing professional value, reduced subjectivity and human error, and no more manual, time-consuming and repetitive tasks.
WHAT CLIENTS SAY ABOUT WORKING WITH US ON PHP PROJECTS?
LOOKING FOR A RELIABLE DEV TEAM? LET'S TALK ABOUT YOUR PHP PROJECT!
#2 Long term projects /projects with dynamic requirements and objectives (Tourpaq ApS)
Tourpaq chose to work with us on this project after a series of meetings, during which the decisive factor was our ability to understand their specific problem and offer the most efficient solutions, as well as the technical proficiency of our software experts.
Their requirements came from a practical perspective, and part of our tasks was to provide them with consultancy in mapping out the exact specifications for the project, based on their concrete needs, to identify the best solutions to address them and to implement these solutions.
Our flexibility and agile development methodology played from the beginning a crucial part in the success of our collaboration.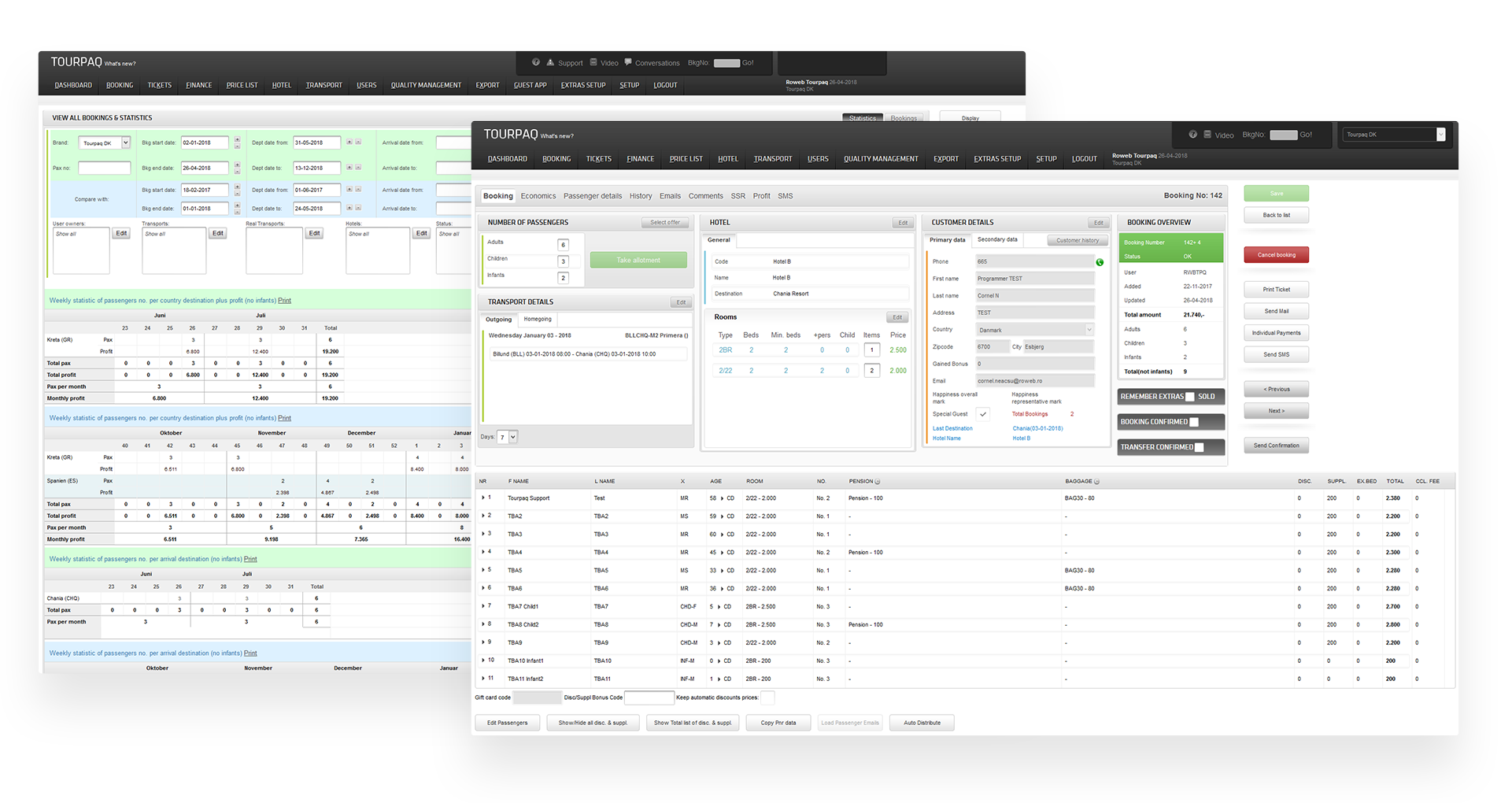 Category: Business Applications / .NET Portfolio / Tourism & hospitality
Technology: ASP.NET / MS SQL Server / ASP.NET AJAX / WCF
Client's need: Tourpaq needed an up-to-date Tour Operator Management System that would enable the users to manage everything that has to do with their activity, from a single dashboard. The client also requested us to build for him Tourpaq Destination App (a modern solution for guides and tourists) and Tourpaq Guest App (an app that enables end-users to enjoy their holiday).
Project team:






Together with Roweb we've built TourPaq up, from a booking system for small tour operators, into one of the leading solutions on the market, addressing the needs of large tourism businesses. We were impressed by the level of professionalism that Roweb showed throughout our collaboration. Roweb has always managed to be up to the challenge and stay ahead with new technologies we could use. It is a pleasure to cooperate with such a professional partner, which not only delivers what´s agreed upon but also has the future in mind when developing new things.

Bjarke Hansen
CEO, Owner of TourPaq Aps
#3 Projects that required extended skills / completing an existing project (WHISE CRM)
The company's main product is a Customer Relationship Management software, designed for the real estate sector, that we built for them and continued to improve through an ongoing development process, where together with the client we discuss workflows, do the necessary planning, identify ways to improve processes and add useful features.
The client needed to upgrade the application and have it built mobile-first in order to be able to access other markets outside of Belgium, particularly in Romania. At the same time, they needed to seamlessly migrate approximately 600 Belgian real estate companies in their existing user database into the new application.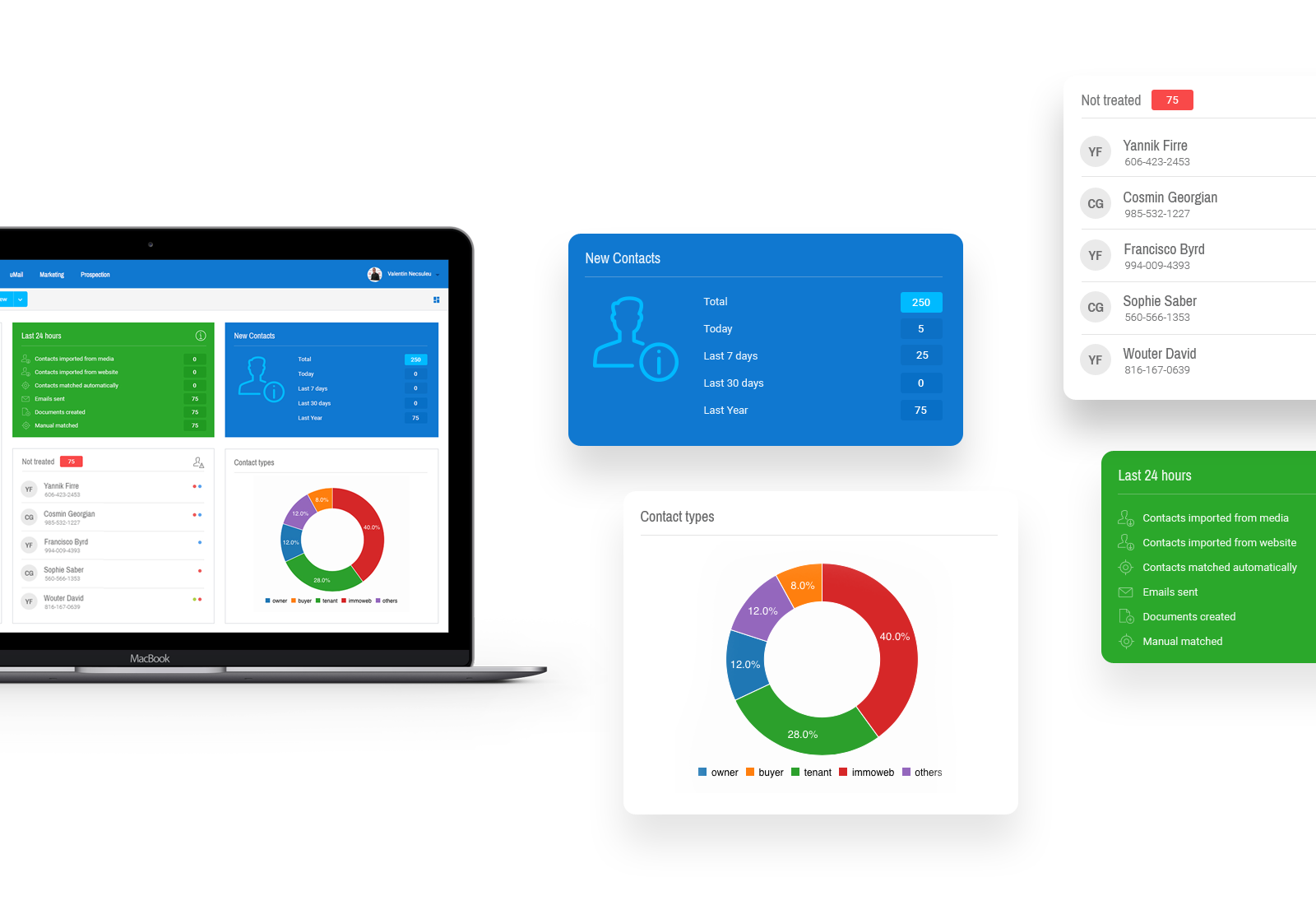 Category: Mobile development / Business applications
Technology: ASP.NET Web API / Nancy FX / MSSQL / Elasticsearch / Memory cache / Redis / RabbitMQ / SignalR / PRTG / Octopus / Quartz.NET
Client's need: Our client needed to replace a desktop solution for real estate companies with a web-based and mobile-first solution while migrating all of the data.
Project team: The client requested a complete project team, including backend developers, front-end developers, designers, and a UX specialist.




Roweb proved to be a great partner to work with, providing us with a highly responsive team. During our collaboration, I found it very easy to communicate with them and they were very flexible in meeting our requirements. Because of the project's complexity, new requirements came up quite often and they always managed to find and implement the adequate solution on time. I would have no hesitation in recommending them for complex enterprise development projects.

Jean Waucquez
Owner, WHISE nv
WORKING WITH ROWEB'S DEDICATED TEAMS
We have an in-house team of software professionals who manage end-to-end product development projects, from business analysis, consultancy, and architecture, to post-implementation testing and maintenance.
"We are always interested in building long-lasting teams. It is essential to save the project's optimal cost, so we consider the different levels of tasks required by the project, their duration, and workload. For most projects, the best team configuration includes junior, middle, and senior developers. Our employer branding strategy implies hiring junior developers from the university, and we continuously invest in their professional growth."
Viorel Costea | CEO, Roweb Development
Why is our approach preferred by clients?

Summarizing what clients appreciate the most on our approach:
flexibility;
stable teams;
predictability and transparency;
3 engagement models- Dedicated Team, Time and Material, and Milestone Billing;
address a wide range of industries, such as Real Estate, HR and Recruiting, Financial Services, Transport and Logistics, Ecommerce, Tourism, Hospitality, Labour Protection Safety, Legal, Marketing and Media Software;
long-term partnerships with our clients (some of our ongoing projects count more than 11 years);
highly open in terms of engagement models, technical solutions, and delivery schedule to make sure we meet every need.
"We have a high retention rate and the possibility of quickly creating mixed dedicated teams, including juniors, middle or senior developers, depending on the project's needs; This helps us guarantee the team's stability, which positively impacts the project's lifecycle."
Viorel Costea | CEO, Roweb Development
Check out the stories behind some of our projects developed with dedicated teams
READY TO START A PROJECT WITH OUR DEDICATED TEAMS ?