The way this pandemic changed our way of behaving is abundantly clear. In order to stay ahead you should anticipate what your customers want. At the same time, business models will shift towards a more digital (remote) environment. We are still yet to see how those changes will impact our lives, but that doesn't mean you shouldn't be looking to have your business acclimate with future expectations.
Digital nomadism is a key word for 2021, and it will influence top technological and business innovation.
So we made a top 3 business and technology trends for 2021
#1 Real estate is changing with 3 major technological solutions: CRM, website and phone app
How well is innovation received by the real estate industry? Pretty bad. According to a study conducted by the National Association of Realtors 45% of the brokers reported that "keeping up with technology" is horrifying for their agents.
Despite the fear of the agents, real estate is looking to innovate mainly for two reasons: a) improve internal operations and b) adopt a customer-driven approach partly because it enhances performance and results, partly because of pandemic pressure.
So why are these 3 technological solutions important?
CRM
CRM software performs two basic functions: company maintenance which includes real estate agents, clients, and tenant information and it aims to organize the relationship with these clients.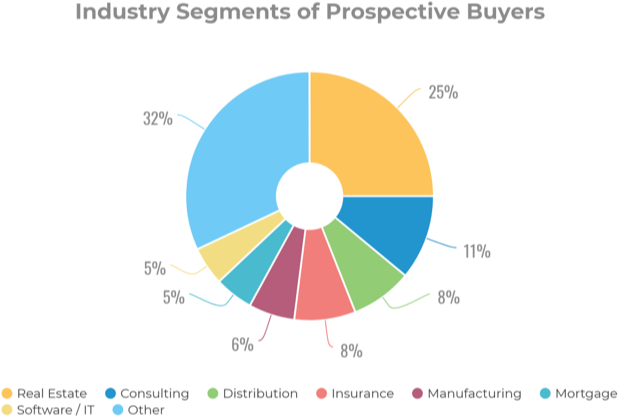 What does the CRM enhance for a real estate company?
Data import – automate all the information sources;
Real estate property and its features;
Automate sales campaigns;
Full management over the transactions across all stages of the sales funnel;
Having a quick access reporting and dashboard ensures a faster response to the market;
Tailor any workflow to the companys' specific business processes;
Avoid any leakage by having a role-based access to any company data;
Third-party services integration to exclude switching between different apps;
The real estate hosts real complex transactions. The realtor has to offer the best options for both buyers and sellers. In the same time, real estate transactions involve multiple follow-ups, meetings and negotiations. Having a pre-built CRM might be a good idea, but it might not cover all your needs. This is why you should consider a custom CRM development. If you are unsure if you should buy or build a solution, you should check this article here.
We developed a Customer Relationship Management software, designed for the real estate sector, that we built for them and continued to improve through an ongoing development process, where together with the client we discuss workflows, do the necessary planning, identify ways to improve processes and add useful features.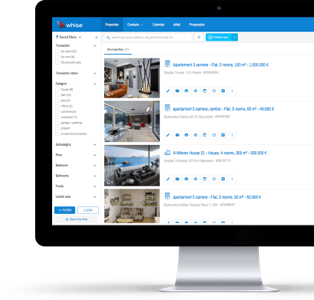 What are some of the functionalities:
Property database that allows automatically exporting properties to the agency's website as well as national real estate advertising portals;
Complete property history, with every related event, client visit, phone calls, adverts and brochures;
Action button for emailing an offer's details to its owner or to a client;
Action button for adding events to the calendar;
Report for the property owner, containing the complete transaction history;
Activity plan that the real estate agent can customize for each particular estate;
Tools to automatically and manually match offers with searches.
Website
In this era, especially during the pandemic, the website is your most important business card. Having a website that can adapt to both mobile devices and desktop, and is done in such a manner that inspires trust and professionalism is a must. 44% of people look online for information, and 93% use the website of a realtor as the main source of information (source here).
What does a website for a real estate company should include?
property listing;
integrated mapping;
search option with customized filters;
high-quality images;
buy and rent cost calculators;
built-in or integrated CRM system;
blog.
What are the benefits?
Get qualified leads;
Additional advertising resources like SEO optimization, PPC, affiliate, or content marketing;
Improved marketing campaigns. Growing brand's own subscribers list for a weekly or monthly newsletter.
We built this project for the real estate industry with the desire to serve the needs of agencies and end-users, searching for a property, independently, better than before. It offers a complete experience of a real estate portal for desktop and mobile devices. It has multiple functionalities and it has a comprehensive understanding of today's needs of the market.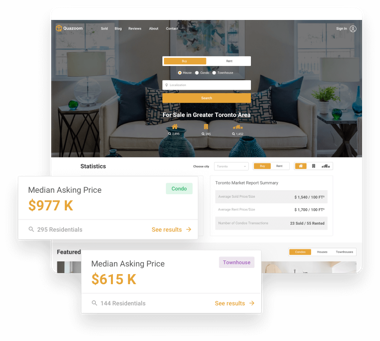 Different filters can be applied to the search query, with classic pagination or infinite scroll, all with a view type that can be list, grid, or map. The map also displays points of interest and you can define your interest area by drawing a shape on the screen. Of course, you can save the search, which you can use later with a single click.
Mobile app
The digital disruption set its eyes on the real estate industry. Having a custom-made mobile app is one of the most critical technologies a real estate company should incorporate in their business. In 2019, the year without the pandemic, 81% of Older Millennials, 80% of Younger Millennials, and 78% of Generation X found their home on a mobile device compared to 68% of Younger Boomers.
How to create a real estate app?
1
Come up with the concept of your app. Do you have a particular service in mind to advance business operations? Or maybe you want to create a version of the current ones?
2
There is also market research. You can define niche apps and tools, the pain points of the audience, and monitor the prominence of particular digital real estate trends.
3
Prototype your business plan, branding, monetization, and sources to acquire customers, realtor, and real estate databases.
4
Look for a software company that can redefine your concept into an app. Partnering with outsourced agencies has already become a good practice.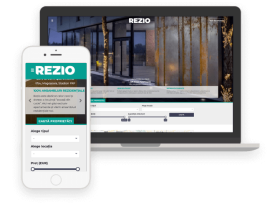 This next solution was for a real estate entrepreneur interested in developing an online platform dedicated exclusively to residential complexes.
The business's main direction is to promote complete offers for new properties (from those in the initial stages of construction to those already ready to receive their owners).
Our client's goals
He wanted to launch a full-customized real estate portal to help real estate developers promote their residential complexes in a smart and complete manner.
Some functionalities of the app:
advanced search features (based on specific criteria like property type, no. of rooms, location, etc.);
accessing the property directly from the map;
search property/residential complex by name;
selecting properties as favorites (using cookies only, without storing any personal data);
fast access to technical details (resistance structure, exterior walls, partitions, finishes, carpentry, plumbing, etc.);
fast access to general information (construction stage, completion deadline, price, etc.);
online calculator for a property with extended assets;
getting in touch with the seller via e-mail, phone number, or by using the contact form.
#2 Food delivery will continue to be on the rise

One of the biggest themes for restaurants in the past year was the food delivery. We already covered this in our blog articles, here and here.
The concept of food delivery is not new, as we already know multiple 3rd party apps who made their entry on the market since 2015. In the same time, this past year there were multiple cases where restaurants proved that 3rd party apps don't really help.
We already know how important it is for a restaurant to have the option to deliver food through an online solution. In the same time, online food delivery is forecasted to beef up to a massive $200 billion by 2025.
What we believe is the most important aspect is that according to Preoday, 70% of consumers answered that they'd rather choose to order directly from the restaurant, than paying a 3rd party app, when they learned the commision a restaurant has to pay for every order.
Why not build a mobile and web app just for your business?
We've developed a complete digital solutions for delivery, online sales/reservations/orders & marketing. A similar solution can also be used for other small businesses (butchery, fishery, bakery, winery, grocery, sweetshop) that can migrate their main sales activities online.
Our solution was already installed in multiple restaurants, with staggering results in multiple phases after the implementation. Check the results here.
If you want to see how this solution works for a restaurant, check our case studies for Green Pub, Hush Restaurant or Mansion Pub.
The solution is made so that online delivery, sales/reservations/ orders & marketing are up and running in just 3 days. Besides that, Roweb does not perceive any commission on orders.
Roweb's philosophy is to help companies grow through innovative technology. This is the reason behind 0% commision, so that a restaurant should focus on expanding its delivery and services. Besides that, restaurants can ask for installment payments according to their need.
We are ready to answer all the questions above (and even more).
Get in touch with us to start discussing your next app for your restaurant.
#3 Fintech for companies – the necessary leap to be more agile
One of the most disruptive aspects of the pandemic is that it became an unexpected catalyst for tech adoption globally. A report by McKinsey showed that we've vaulted five years into the digital business and consumer adoption in about eight weeks' period.
The proliferation of fintech solutions has brought customers to be the center of every financial organisation. In order to stay competitive in a crowded marketplace, the financial industry must focus on delivering a high-quality customer experience.
One way to start this process is to reduce friction in order to help end-users get their products and/or services faster. Eliminating manual processes, cutting down on too many apps connected through legacy software, and automating routine tasks will continue to be a major point of emphasis for fintech software applications. In the same time, customers no longer have the patience to fill out lengthy forms repetitively or to go through the frustrating procedure of downloading, printing, signing, and scanning documents.
Investing in building a software with extended capabilities (like invoice payment through QR/document scanning), secure account access (with biometric features) and secure banking transactions (using built-in security features), a company will feel and look more reliable, while offering some of the best technologies available, in a single mobile app.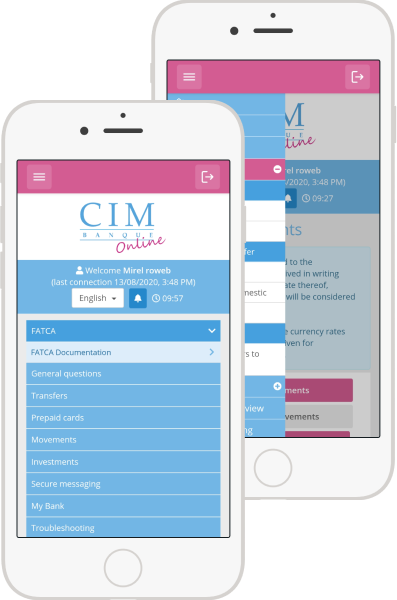 In the same time, a study from Gartner in July 2020 revealed that 82% of respondents intend to permit remote working some of the time as employees return to the workplace.

A survey of 130 HR leaders done by Gartner, in december 2020, revealed that 90% of respondents plan to allow employees to work remotely at least part of the time, even after the COVID-19 vaccine is widely adopted. Sixty-five percent of respondents reported that their organization will continue to offer employees flexibility on when they work.
Having at least a hybrid workplace will be the new norm. That means financial organisations will continue to need digital tools in place to provide secure access to files and facilitate collaboration, without having their business slowed down due to the lack of proper technology.
Without a dedicated solution for an intuitive financial system that simplifies and automates the invoice management process at multiple levels, and all the financial activities related to it, companies are forced to resort to a variety of 3rd party software solutions that can quickly compromise data security and increase the likelihood of errors.
Another way to improve the capability of a company would be through a web app for improved performance on multi-party financial processes. For one of our clients, the process of collecting/storing/synchronizing the transmitted data and documents was difficult and time-consuming. Updates and data processing were mostly done manually, while documents were transmitted using traditional digital tools (for example, e-mail) – which led to delays and difficult trackings along the process. By having this type of solution tailored for their needs, they were able to better help their clients and having a secure fintech solution to speed up their processes.
You identified a market opportunity and you want an IT solution?
With more than 130 developers, we can offer you a complete team of experienced developers or a dedicated pool of developers with more than ten years of experience in Roweb only, with the appropriate technical capabilities for your particular needs.
You will save time on the whole hiring process and office expenses, and more. You will benefit from the experience of more than 17 years of being on the market, with teams that developed from the company's beginning and are specialized in industries like: recruiting & HR, real estate, retail & e-commerce, tourism & hospitality, charity, and non-profits, associations, insurance, financial services, IT equipment trading/reclaiming, transport and logistics, e-health, to name a few.
A dedicated team is a correct answer if you want to develop – or continue an already developed – new service or a product for your clients and you need something that makes you stand out from your competition. Besides that, you can have full control over the entire process while you are mobile in business decisions.
TECHNOLOGIES THAT WE USE:








METHODOLOGIES
Agile
Scrum
Kanban
Waterfall
ROLES WE PROVIDE
Project managers
Business analysts
Developers
Q&A specialists
Scrum masters
UX Designers